---
… scroll down to find also a description of the GRIASDI artists after the alphabethic listing……
---
| | |
| --- | --- |
| Adam Maalouf (USA) | 2018 |
| Adele Blanchin (FRA) | 2017 |
| Adran J Portia (AUS) | 2016, 2017, 2018 |
| Alexandre Lora (BRA) | 2016, 2017, 2018, 2022, 2023 |
| AMALUA (AUT) & Pablo Bertone (ARG) & Felix Martl (AUT) | 2023 |
| AMAROK (ESP) | 2023 |
| Andrea Szabadi (HUN) | 2022, 2023 |
| Andy Huber (AUT) | 2018 |
| Ania Brzezinska (POL) | 2017 |
| ARCHER & TRIPP (GBR, GER) | 2018 , 2022, 2023 |
| Armin Metz (GER) | 2016 |
| Azeem Ahmed Alvi (IND) | 2016, 2017, 2018 |
| BANDGLADESH (ESP, POL, NDL) | 2017 |
| Benny Bettane (AUS) | 2016 |
| Binod Katuwal (NEP) | 2018 |
| Christian Amín Vàrkonyi (AUT) | 2016, 2017, 2018 , 2022, 2023 |
| Christian Schratt (GER) | 2016, 2017 |
| Connor Shafran (USA) | 2023 |
| Conrado Molina (ARG) | 2022, 2023 |
| Dan Mulqueen (USA) | 2023 |
| Dani Galfione (ITA) | 2016, 2017 |
| Daniel Giordani (AUT) | 2017 |
| Daniel Waples (GBR) | 2016 |
| David Eibl (AUT) | 2023 |
| David Hauser (ITA) | 2016, 2017 |
| David Kuckhermann (GER) (guest: Melinda Holtz 2023) | 2016, 2022, 2023 |
| Edoardo Striani (ITA) | 2018 |
| Einat Gilboa (ISR) | 2018 |
| Emma Mumi Grassia (ITA) | 2016, 2018 |
| Gerhard Fankhauser (AUT) | 2018 |
| Haider Khan (IND) | 2016, 2017, 2018 |
| Hans Falter (AUT) | 2018 |
| Hassie Dune (NDL) | 2017 |
| Iqbal Khan (IND) | 2016, 2017 |
| IRMAOS LORA – Alexandre & Douglas Lora (BRA) | 2023 |
| Jacky O (ITA) | 2016, 2018 |
| Jaron Tripp (GER) | 2018, 2022, 2023 |
| Javier Murugarren (ESP) | 2017 |
| Jeremy Nattagh (FRA) | 2017, 2018 |
| Joao Jardim (POR) | 2018 |
| Joao Nunes (POR) | 2016, 2022 |
| Joris Cohen (ESP) | 2017 |
| Kabeção (POR) | 2016, 2017, 2018 , 2022 |
| Kate Stone (GER) | 2016 |
| KENEBONDA (AUT) | 2017 |
| KHAYALAN (POR) | 2018 |
| Koji Matsumoto (JAP) | 2016, 2017, 2018 |
| Laurent Sureau (FRA) | 2018 |
| Lea Valentina Limbrunner – MEA (GER) | 2022 |
| Leonardo Trincabelli (ITA) | 2018 |
| LES SALTIMBANQUES (FRA/GRE) | 2018 |
| Little Pablo (ESP) | 2018 |
| MADAHAHU (AUT) | 2017 |
| MAHAAN (AUT) | 2018 |
| Marc Lupescu (GER) | 2018 |
| Marcel Hutter (AUT) | 2016, 2017, 2018 , 2022, 2023 |
| Maria Dörfler (AUT) | 2023 |
| MAR LOI (ESP) | 2023 |
| Marketa Drozdkova – MEA (CZE) | 2022 |
| MATSUMOTO ZOKU (JAP) | 2016, 2017, 2018 |
| Mauricio Rodriguez (ESP) | 2018 |
| Mayiia (GER) | 2018 |
| Mayuko (POR) | 2016 |
| MC Coalman (GHA) | 2017 |
| Montry Manuel (IND) | 2016, 2017 |
| Nadishana (SIB) | 2016, 2017 |
| Peter Gabis (AUT) | 2017, 2018 |
| Pintoo Khan (IND) | 2016, 2017 |
| Quentin Kayser (FRA) | 2022 |
| Rafael Sotomayor (CHL) | 2016 |
| Reo Matsumoto (JAP) | 2016, 2017, 2018 |
| Rina Chandra (AUT) | 2016 |
| Salah Ammo (SYR) | 2017 |
| Samantha Archer (GBR) | 2018, 2022, 2023 |
| Sandy Mango (FRA) | 2016, 2018 |
| Sebastiao Bergmann (POR) | 2016, 2017, 2018, 2022 |
| Simon Gyuri (HUN) | 2023 |
| Stephan Mastnak (AUT) | 2018, 2023 |
| THAALAVATTAM (IND) | 2016, 2017 |
| THE COSMIC BOAT (FRA/ESP) | 2018 |
| TWINPAN | 2018 |
| Yela Brodesser (AUT) | 2017 |
| Ze Cruz (POR) | 2018 |
---
---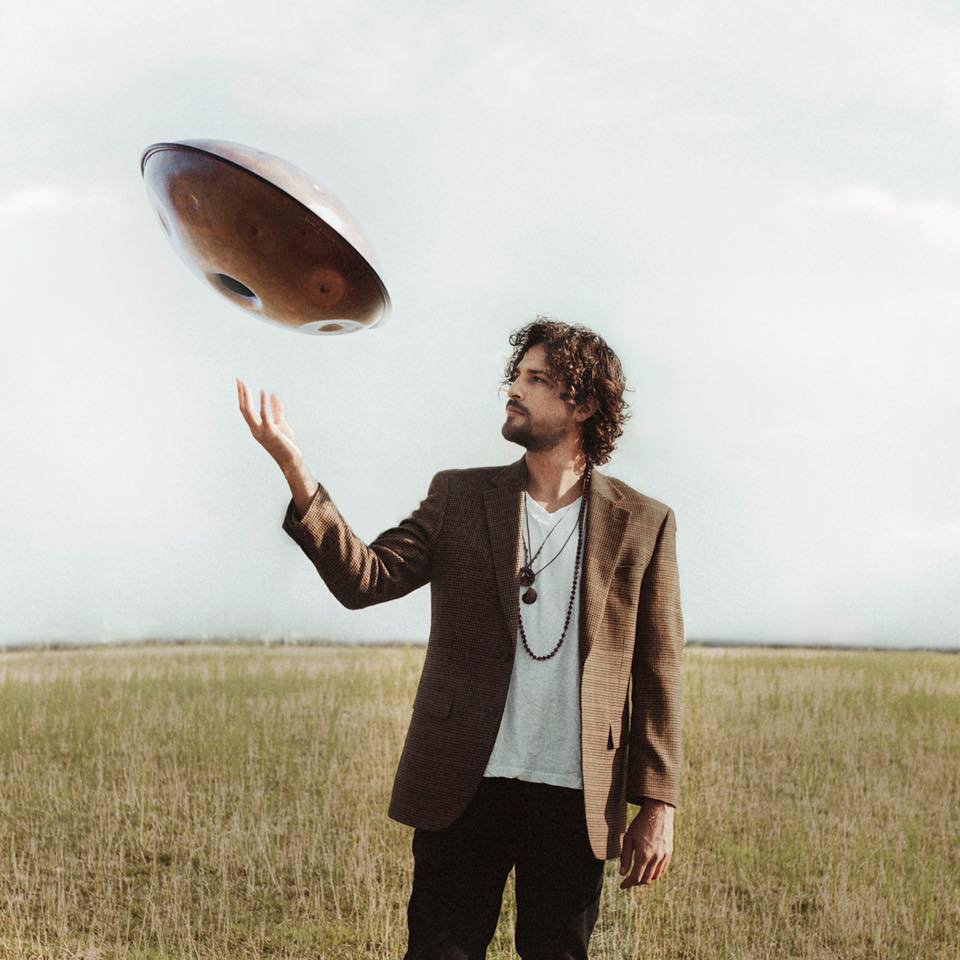 Adam Maalouf's music is found where the modern meets the ancient, where the Pantam(or handpan) meets ancient or traditional styles of music from around the globe brought together using electronic beats and synthesizers. Pan-tam is the name of the "flying saucer" instrument invented in year 2000, and the word stems from the combination of the Pan from Trinidad, and the Ghatam (clay pot drum) from South India. Adam's unique musical style is channeled through genre-bending compositions for solo and ensembles that incorporate musicians from around the globe. As a dedicated music student, Adam has traveled through Europe, India and the Middle East to study under renowned percussion masters and in 2013 received his BA in Percussion Performance from the Eastman School of Music in Rochester, NY. As a teacher, Adam regularly hosts workshops and retreats in New York and North Carolina and hopes to bring cultures together through his teachings and performances.
A New York City based composer and performer, Adam has shared his music in venues across the world including Carnegie Hall, Lincoln Center, MoMa, St. Basil's Cathedral, Tanglewood, Wolf Trap, The BANFF Center and Austin City Limits. As a collaborator, Adam has performed with ensembles such as The Brooklyn Raga Massive, Pink Martini, Ensemble Signal, The Atlanta Symphony, The National Arabic Orchestra, The Asheville Percussion All-Stars and The Gil Evan's Centennial Project, and with artists such as Steve Reich, Eugene Frisen, Kygo, Drukmo Gyal Dakini, Lizz Wright, Jamey Haddad, Farah Siraj, Morley and many others. Adam performs regularly as a solo artist and with his world music project "Future Tribe".
---
---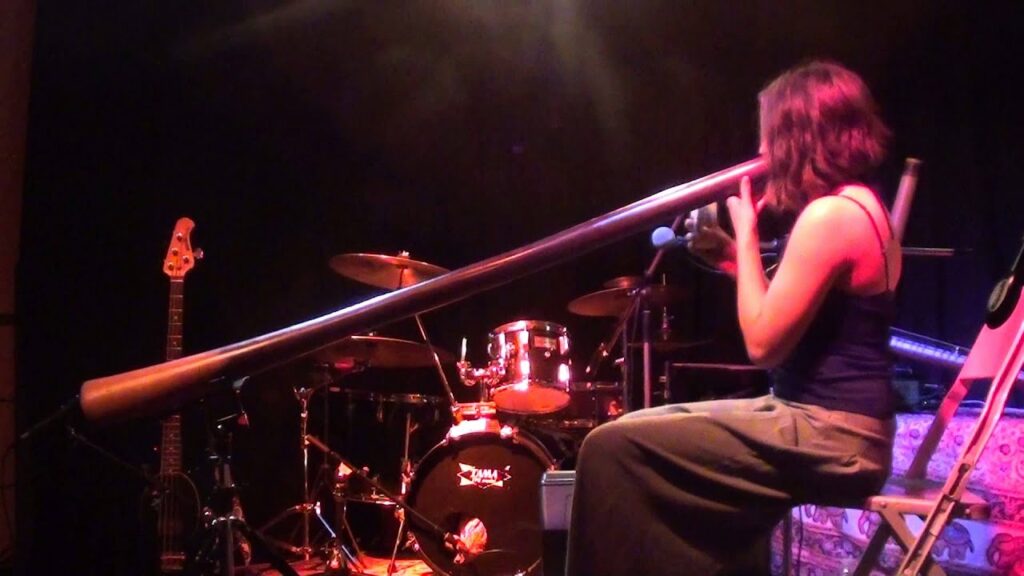 Adele B has been a natural and worldwide reference of didgeridoo playing for years already.
On the biggest world stages with Secret Vibes (Electro Trance), and the duet Adele and Zalem, she has simultaneously developed great ways of playing the jawharp too.

Hearing Adele, you get to understand how powerful music is in her, whatever the instrument she plays.
---
---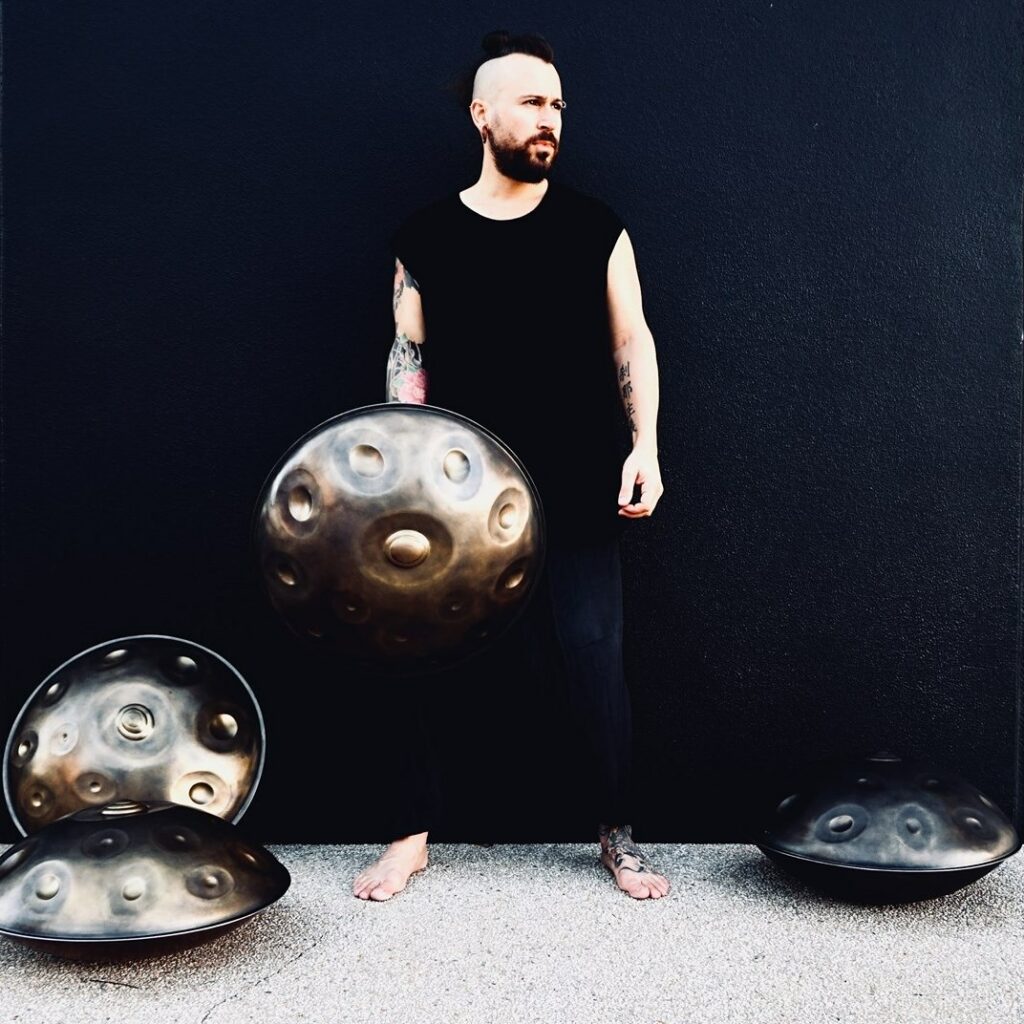 ADRIAN J PORTIA is a professional drummer/percussionist based in Melbourne, Austrialia.
Adrian started playing drums from the age of 10 and touring the country in his fathers band at 12 years of age. Performing every week he gained a lot of experience in his younger years, which helped him become the musician he is today.
At the age of 19 adrian was runner up in Australien's best up and coming drummer competition, which led him to endorsement deals with premier drums sabian cymbals and vater drumsticks.
He has performed with many musicians over the years and is still an in demand musician in the Melbourne music scene.
About 7 years ago he started experimenting with different hand percussion and is continuing to explore world percussion instruments.
His love and desire to play a Handpan began when he first saw a "Hang" in 2018, althought it wasn't until august 2013 that he received his first Handpan. In this short time Adrian has been recogniced internationally as one of the top players and educators on the instrument and has been traveling all over the world performing and teaching. He is widley known for his speed, control and command over the instrument and has been given´the nickname "the hummingbird".
Having his own unique, versatile, percussive and melodic stile, Adrian is dedicated to continue to develope in the craft of playing these amazing instruments.
---
---
Alexandre Lora (BRA) [ 2016, 2017, 2018 , 2022, 2023 ]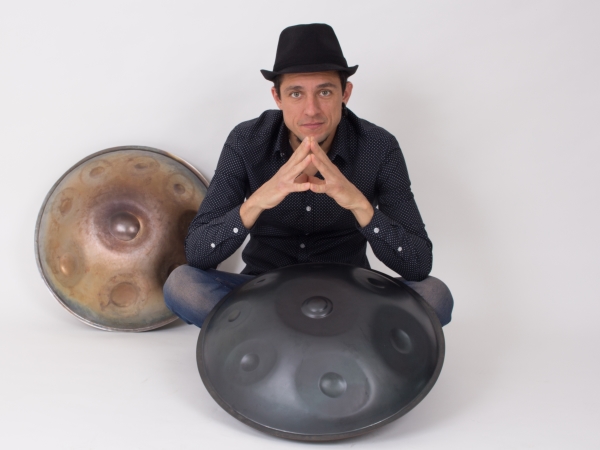 Alexandre Lora moves easily within different styles of Brazilian popular music and World music, performing as a percussionist and Hand Pan/Pantam soloist.
Lora achieved his Bachelor's degree in Drumset Performance in 2002 at FAAM (Faculdade de Artes Alcântara Machado). He has studied classical percussion for 3 years at the EMM (Escola Municipal de Música de São Paulo), and got his Master's degree in Musicology and Music Education at the UAB (Universidad Autónoma de Barcelona) in 2009.
In 2010 has performed in 33 cities around Spain, participating in the project "DiverSons" (Banco La Caixa).
In 2011, as member as the XLJazz Orchestra, he had performed in Amsterdam and Rotterdam along the great piano player Ramon Valle.
Since 2012, Lora is a faculty member at Centrum Choro Workshop (Port Townsend-USA) and has performed with his Trio Brasileiro in major US cities such as New York, Chicago, Boston, Seattle, Miami and Portland.
Alexandre has collaborated with accomplished musicians such as Anat Cohen, Jovino Santos Neto, Mestrinho, Ramón Valle, Mariana Aydar and Brazil Guitar Duo.
In 2015 he has released his first solo CD, with all original compositions, entitled "Oriente".
In 2016 and 2017 has performed at "GRIASDI", Hand Pan and World Music Festival (Áustria), solo performance.
His second Solo CD entitled "Hand Pan for Peace" was released in July – 2017.
Grammy nomination 2018: "Rosa dos Ventos" – Best World Music Album" Anat Cohen + Trio Brasileiro.
---
---
AMALUA (AUT) & Pablito Bertone (ARG) & Felix Martl (AUT) [2023]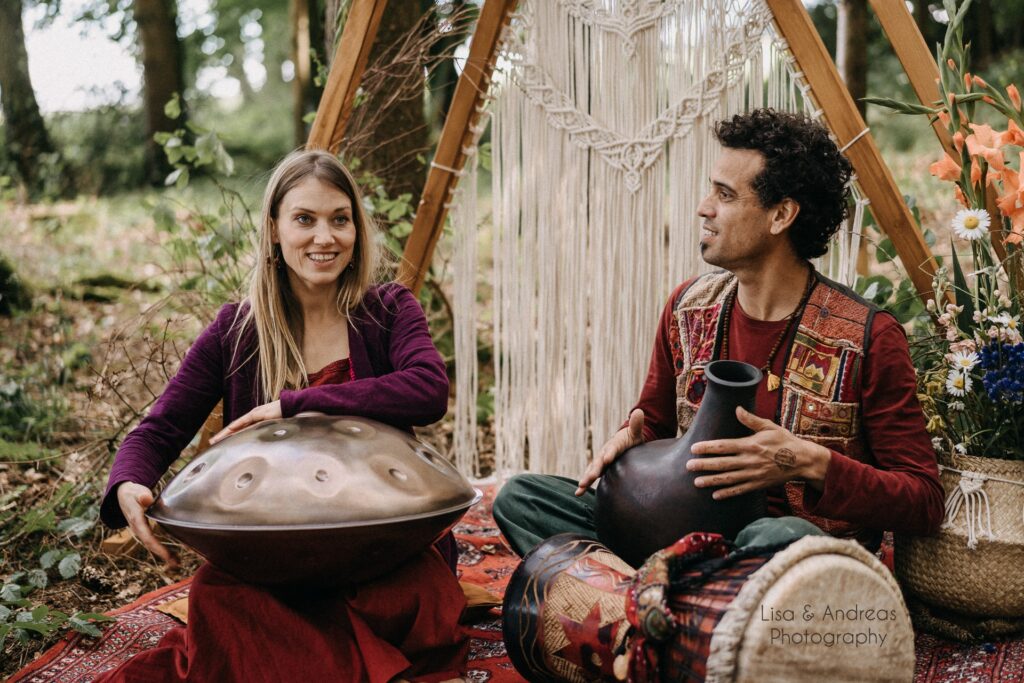 Following the call of music since childhood and after academic trainings in music and dance Amalua kept exploring her inner, intuitive connection with music and her fascination by the magic of improvisation.
Her love for the beautiful Handpan instrument began in 2005 with a Hang and since then she has been exploring and sharing her connection with sound through Handpan and voice with the world. Music as a gift of life.
Guided by a great fascination in music cultures she travelled around the world for 7 years, specially all over South America, exploring the variety of cultures, their rhythms, songs and healing traditions.
Pablito´s great connection with rhythm made him start playing percussion at early age, as a teenager he played in different classical orchestras and later he discovered his love for music from ancient cultures.
By sharing his passion for rhythm Pablito often playfully awakens the desire to dance among the audience.
Amalua and Pablito met during the recordings of her album ´Hangkreise´ 2009 in Argentina and since then they have been walking and playing together.
Together they create danceable songs and spheric beats with Handpans, Voices, World Percussion and Charango.
Their music is inspired by the healing spirit of nature, of ancient cultures and by the journey of life.
A unique fusion of different cultural roots intertwining in their music, guided by the young instrument Handpan.
Felix Martl – Studying musician based in Graz | Austria. Clarinet and other instruments…….

AMALUA: https://www.amalua.at
Pablito Bertone: https://www.musiklarium.com/about-us-press/pablo-bertone/
Felix Martl: https://www.instagram.com/feiiixmusic/
---
AMAROK (ESP) [2023]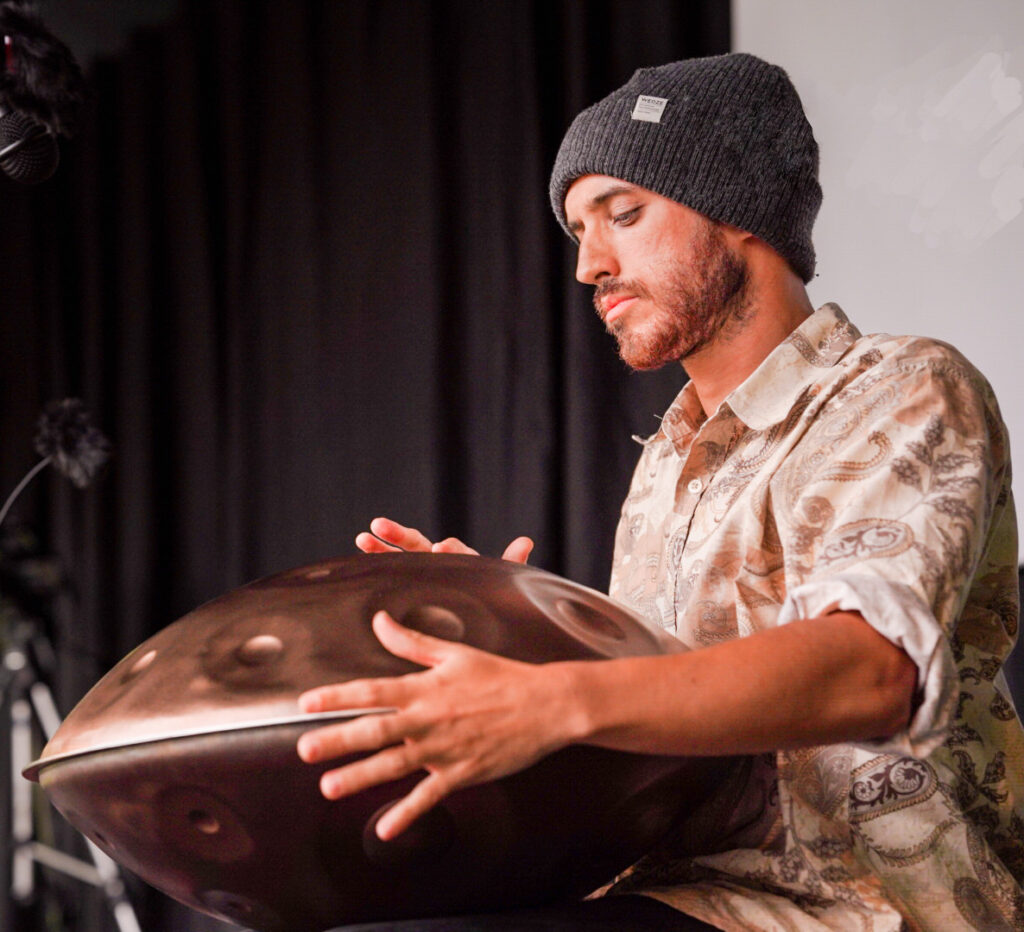 ---
Amarok, a maestro of enchanting melodies and cosmic rhythms, has captivated audiences with his entrancing handpan artistry. Emerging from a childhood of improvised rhythms using household objects, his path led to becoming a talented drummer within Barcelona's music scene. The allure of the handpan soon enchanted him, giving rise to two mesmerizing solo albums that blend his instrumental prowess with his awe for physics, nature, and the cosmos.
Guided by an authentic passion and inquisitiveness, Amarok's compositions extend an unpretentious invitation to explore emotions and connections. His music bridges the earthly and the ethereal, creating a sonic haven for fortunate witnesses of his performances. Amarok beckons us on a sonic voyage, creating narratives that resonate profoundly. In this voyage, each note is a stroke upon the canvas of imagination, weaving a melodious tapestry that captures the essence of human experience.
Moreover, Amarok's spirit of innovation thrives through his co-creation of KORAMA, a visionary project that pushes the boundaries of the handpan into uncharted musical realms.
Presently, Amarok embarks on a new artistic venture, crafting a musical odyssey that ventures through a tapestry of sounds. While the handpan remains central, this upcoming project embraces a diversity of instruments to create intricate melodies and textures. This journey promises to surpass his prior works, exploring new dimensions and pushing artistic limits.
https://www.instagram.com/amarokpan/
---
Andrea is a hungarian musician and yoga teacher, lives in Budapest. She started music through her inner and outer journeys with learning guitar and singing. Also soon she was involved with the soundhealing with such "tools" as tibetian singing balls, gongs and many other similar instruments. She holds and participate in many mantra chanting events. She sees music as a healing for humanity where there is complete honesty, openness and all ranges of emotions. She thinks that music is a celebration, a prayer and everyone can take part in this at least with singing as the most healing power is our own voice.
She plays her own compositions on handpan and sing along. These are mostly hungarian songs, rooted in hungarian folk. She just released her 3rd album (1st solo) called "Új Élet" (New Life) which is inspired by motherhood.
www.youtube.com/pantamlady
www.pantamlady.com
Andrea was playing at GRIASDI 2023 together with Simon Gyuri (HUN)
---
---
Archer & Tripp (GBR / DEU) [ 2018 , 2022, 2023 ]
Centred around the Hang, multi-instrumentalists Samantha Archer (UK) and Jaron Tripp (GER) create a unique blend of world music that varies from acoustic trance to complex polyrhythmic compositions. Whilst offering an intricate listening experience to the knowledgeable ear, their emotional and dynamic playing opens the space for a joyous sound journey at the same time.
The two first met at the 2014 edition of the world's first Hang gathering – Hangout UK. Since realising their similar approach and understanding of music as well as a passion for travel, it was inevitable to go on a journey together. During this journey, which literally took them around the world, Samantha and Jaron developed a shared vision of creating a new sound. Although still frequently travelling to share their music, the two are now based in West Germany enabling them to work and integrate more and more of their rare and unique instruments steering them closer towards their idea of 'Acoustic Trance'.
Samantha's classical training during her child and teenage years in piano, clarinet and vocals allowed her distinctive and instinctive sense for melody to flower into a skill for both improvisation and composition.
Jaron's development as a musician is driven by the grounding power of rhythm. When starting to play the Hang in early 2006, the freedom of no tradition matched perfectly with his approach to music.
Since studying complex rhythmical structures in a meditative way, whilst becoming a Taketina teacher (from 2010 – 2012), Jaron's deep understanding of rhythm and pulse uniquely blends with Samantha's enchanting melodic tone.
Album: https://archerandtripp.bandcamp.com/album/trance-send
Website: www.archerandtripp.com
Video Links: http://archerandtripp.com/videos/
Facebook: www.facebook.com/archerandtripp
---
---
BANDGLADESH – Javier Murugarren, Hassie Dune, Ania Brzezinska, Joris Cohen (NED, SPA, POL) [ 2017 ]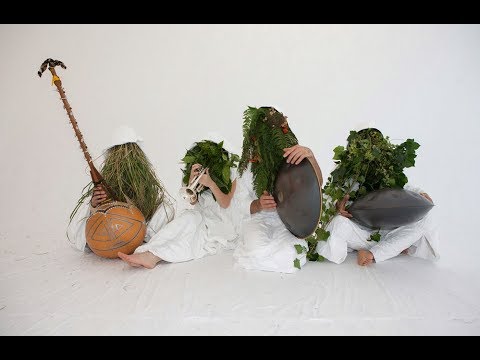 Mutual admiration and profound respect can be felt in the sessions of these musicians in an unusual quartet formation.
Their sound features instant compositions and intuitive improvisations that invites the listeners to enter an internal state of imagination;
nothing is changing but everything changes.
In their concerts, a circular interplay is revealed by the on-going dialogue of two handpan players that build simple and long melodic progressions that evolve organically creating rhythmical series of signals and responses.
In the middle of this progressive atmosphere a trumpet in its subtle virtuosity gathers the oscillation enhancing it into a collective flow, while a N'goni (a kind of African harp) enlightens the rhythmical party with perfectly placed tunes and loops.
Now the four of them manage to create a pulse that continuously gets refreshed with invisible harmonies and secondary layers while maintaining the feeling of a never-ending voyage.
---
---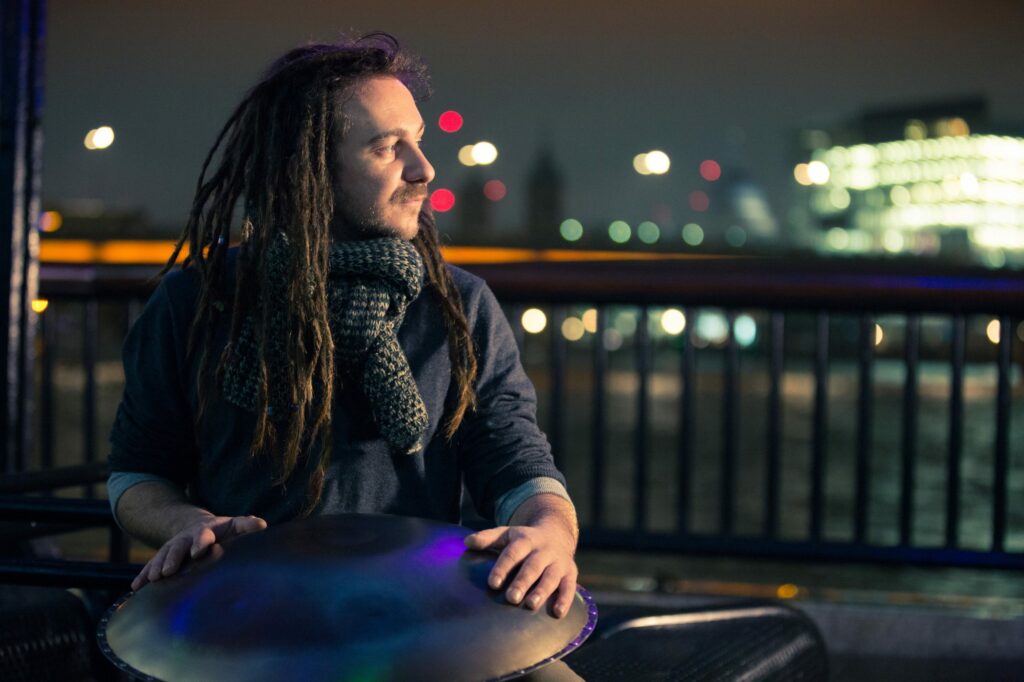 Benny Bettane began his journey from Australia, and discovered the handpan early on. He's crossed continents and countries using his love and music to connect with people. This one and a half year journey has allowed Benny to see the world from an amazing view. Days of Light is his second album.
---
---
CONNOR SHAFRAN (USA) [2023]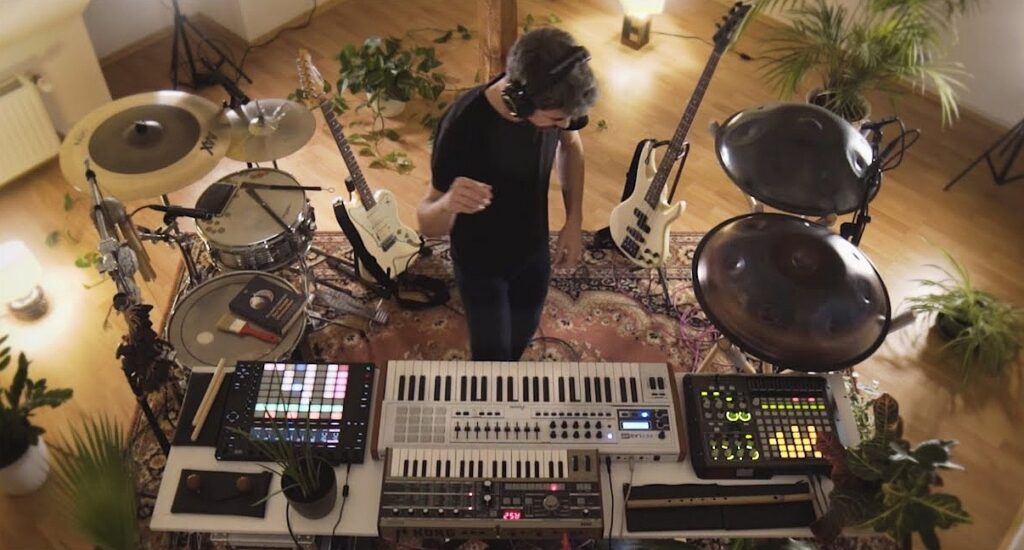 Connor Shafran is an electro-acoustic musician and multi-instrumentalist from the USA, living in Cologne, Germany. Using an eclectic assortment of handpans, synthesizers, drums and foundsound percussion objects, he creates immersive soundscapes and intricate beats that Ableton has praised as "mesmerizing". His music is driven by a passion for experimentation and a desireto push the boundaries of live electronic music.
Connor's innovative approach to live-looping has earned him a reputation as a cutting-edge performer. He enters the stage without any pre-recorded material or backing tracks, and using a technique he calls "scripted looping," builds complex and dynamic pieces comprised entirely of live audio. However, you won't see him using a looper-pedal; instead, his instruments seem to just loop 'on their own' as he moves between them.
Along with Finnish composer Kumea Sound, Connor co-runs Future Rust Records, a record label for innovative handpan and post-handpan music.
Website: www.connorshafran.com
Instagram: www.instagram.com/connorshafran
YouTube: www.youtube.com/connorshafran
---
---
Christian Amín Vàrkonyi, musician born 1985 in Vienna.
Researching therapeutic aspects of sound and music.
Since 2003 he plays Hang & Percussion and more recently Pantam, Charango, Handpan & Flutes.
Amín has released a variety of solo CDs as well as band projects focusing on healing and consciousness as human beings.
As an artist he has performed around 500 concerts on stages throughout Europe, Russia and South America, where he spends extended periods of time learning from shamans, master musicians, culture and people.
Afro-Cuban and Brazilian grooves are an influential part of his music, as well as the harmonic door of overtone music which, for him, is an invitation, into a world of inner peace.
Gerhard Fankhauser is a musician, guitarist, writer and composer from Austria. His musical path is more the way of a troubadour and mystic and during his many years of travel he has studied and integrated musical styles from various traditions. Gerhard lived and traveled throughout Europe, Asia, and America and became strongly influenced by the music of the Mediterranean, India, Brazil and the Middle East. His encounters with Yogis, Sufis and Shamans opened him up to the mysteries of music and paved the way to his own healing music path. Gerhard is an accomplished guitarist, a virtuoso on the spanish lute (lauta) and a master in the art of overtone singing. Since 1995 he performs and teaches all over the world, recording, producing CD's, guiding workshops, music retreats and is fully dedicated to a spiritual music way. He is the author of two books, the creator of various music & peace projects and founder of the 'mystery school of music'.
Einat Gilboa is a singer and dancer from Israel, graduated the school of visual theatre in Jerusalem in the year 2002 where she studied theatre, body work and voice art. She is highly developed in the shamanic art of overtone singing and strongly influenced by the sacred music of the Hebrew tradition as well as Indian, Tribal and Gipsy music. Over the years Einat has cultivated her own unique vocal style. In the field of dance she integrates elements of oriental belly dancing and tribal dance into an holistic, free form of expression. Einat guides and teaches voice and dance workshops, prayer singing circles and retreats. Since 2003 she has been performing and teaching together with her partner Gerhard Fankhauser on different projects of the healingworldmusic community around the world, sharing the musical message of universal harmony and peace.
AMIN VARKONYI & CONRADO MOLINA (AUT/ARG) [2022, 2023]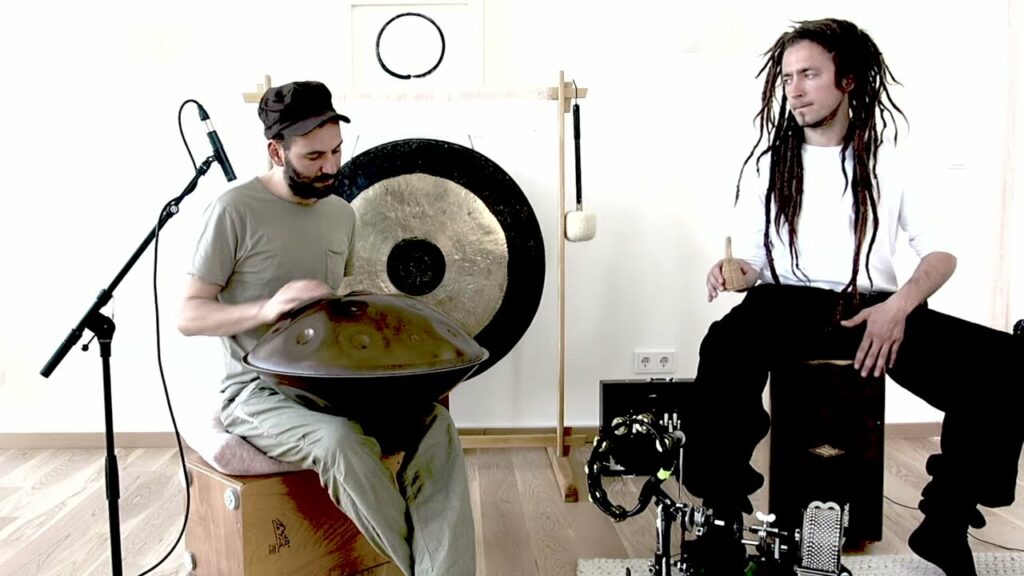 Amín Varkonyi is an independent Artist, musician, sound facilitator and teacher. He was born into a family of artists.
From an early age he was exposed to rhythm and soon found his own passion and heartfelt dedication for music. Through the teachings of his father Amín learned to play percussion and became an inspired Handpan player.
On his journey, he explored sound as one of the most powerful tools to be at peace. The healing nature of his music became undeniable and organically turned into his deep-rooted purpose.
https://www.aminvarkonyi.com
Conrado Molina was Born 1987.
From argentina to austria.
Studied Jazz-Percussion at Bruckneruni Linz with Stephan Maass.
Father of two kids.
Endorsed by MeinlPercussion.
Session and live performer.
Composer and performer at the theater.
Actor in several Tv and Cinema Productions. (Main actor of "Unser Lied" – Best austrian shortmovie 2012″)
Musician at Ecstatic Dance and 5Rhythm events.
Producer of meditative music for Human Design Matrix 64Keys
Clownery walkingacts.
Actor and musician in improvisational theatre.
https://www.conradomolina.com
---
---
DAVID KUCKHERMANN (GER) – special guest: Melina Holtz (GER) [2023]
David Kuckhermann is a Grammy nominated and world renowned handpan player and percussionist based in Berlin, Germany. His musical teaching methods are based on more than 20+ years of playing and professional teaching experience.
He has taught more than 10,000 students from all around the world as the founder of online instrument education schools: Handpan Dojo and World Percussion Academy.
His Youtube channel has more than 10 million views and features a wide selection of performances and educational videos.
He has performed his solo repertoire in famous concert halls including the Royal Albert Hall in London England, the Greek Theatre at UC Berkeley in California and the Ryman Auditorium in Nashville, Tennessee.
He currently tours the world as freelancer, soloist and band-member of Dead Can Dance as well as teaching masterclasses for handpan players and percussionists.
---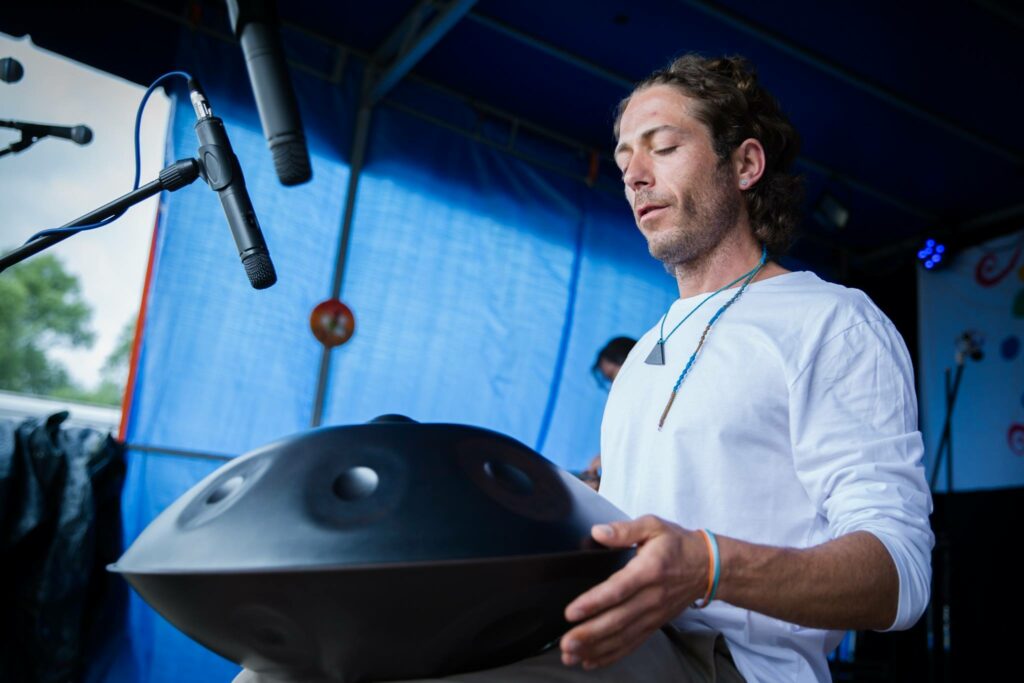 Dani Galfione, musician from Italy, played drums for many years back in the days. The handpan took him to another level of passion for Music and joy of Creativity. In his early stage with this new instrument, he is still discovering and improving his playing-style day by day. Open-minded listener and musician, lover of the versatility and every kind of musical expression, heís continuously in search of a balanced blending between emotion, technique, improvisation and experimental stuff also. Nowadays Dani is playing and performing in festivals, yoga and healing events, ceremonies and private "house concerts" sharing his vibes through Music.
---
---
---
DAN MULQUEEN (USA)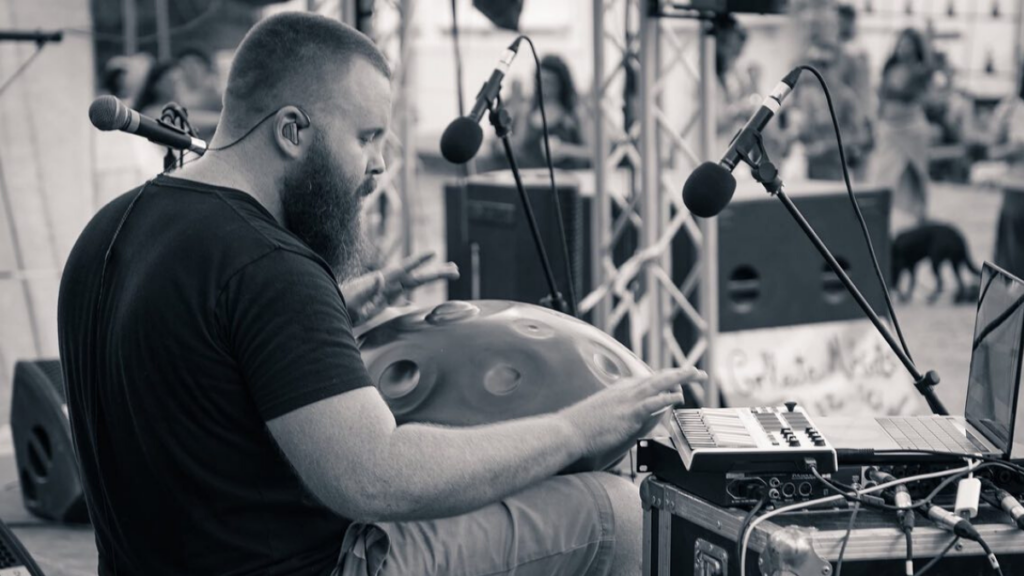 Dan Mulqueen is an American multi-instrumentalist from New Jersey. Dan's music is centered around an instrument called the "Handpan", an instrument created in 2001 in Switzerland. This instrument allows the player to create a rhythm and a melody simultaneously using only the hands.
Determined to push the limits of music revolving around this instrument, Dan's playing style is both beautifully melodic and intensely percussive. His stylistic approach invites the listener to experience elements of multiple genres of music all housed in one easily digestible format. While keeping the handpan as the centerpiece of his compositions, Dan's recordings also feature instruments such as upright bass, piano, electronic beats, guest vocals and more.
Dan has over 18 years of percussion experience in genres like hip-hop, rock, reggae, trip-hop, electronic, blues and latin. When asked about how these genres inspire his writing process, Dan responded "…it's important to me to take my favorite elements of multiple genres and blend them into something different. You'd be really surprised how open people are to music when they can identify with even a tiny element of it."
In addition to multiple solo tours across Australia, Europe and the USA, Mulqueen has also shared the stage with Shpongle for two sold out concerts at Red Rocks Amphitheater in Colorado and collaborated with artists such as Long Arm, Zebbler Encanti Experience and many more.
​No matter what kind of music you're into, Dan has something in his music catalog for you. His music spans across multiple genres and grabs the attention of both casual music listeners and die-hard music lovers. So kick back, relax, and enjoy the sounds of Dan Mulqueen and the handpan!
---
---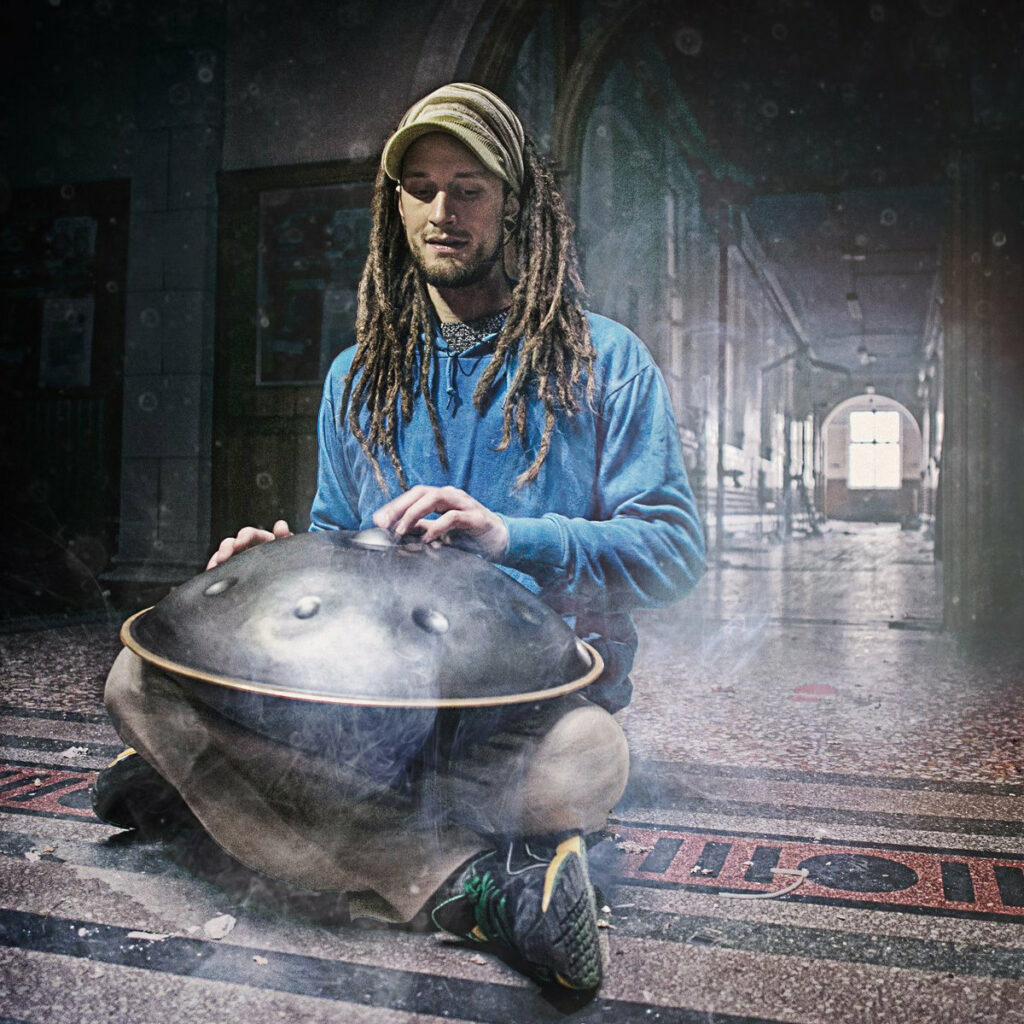 Daniel Waples is from London.
He got his first HandPan in 2007,he supports himself as an independent musician whist spreading the gospel of the HandPan, an instrument associated with energy work and alternative healing, and one which he hopes will become a Symbol for universal peace and the Inner journeys all people take pursuing their individual Paths.
---
---
---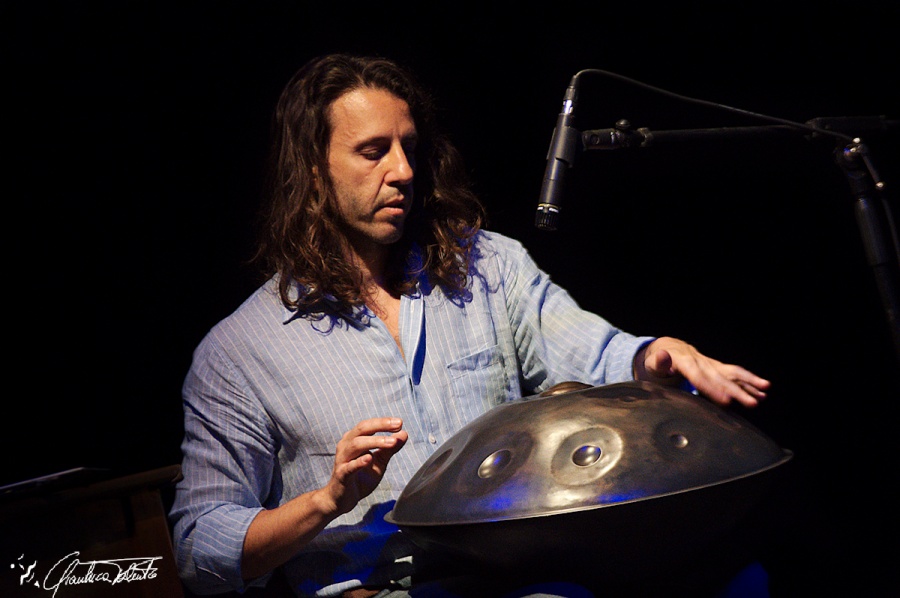 Edoardo started playing percussions in 2010, and began his journey in the world of Handpans in 2012. He used to work as astrophysicist in the day, while playing in the streets of Rome in the evenings. Since then, he performed at the Milano Handpan Festival Milano in 2013 and 2014 and several events of modern dance and meditation around Europe and India. In 2016 he created "Music from the stars", a format where he plays his handpans while showing images from the universe and tells about the misteries of the cosmos. His aim is to merge his two passions, handpans and stars, in an emotional experience that provides feelings of wonder and connection.
---
---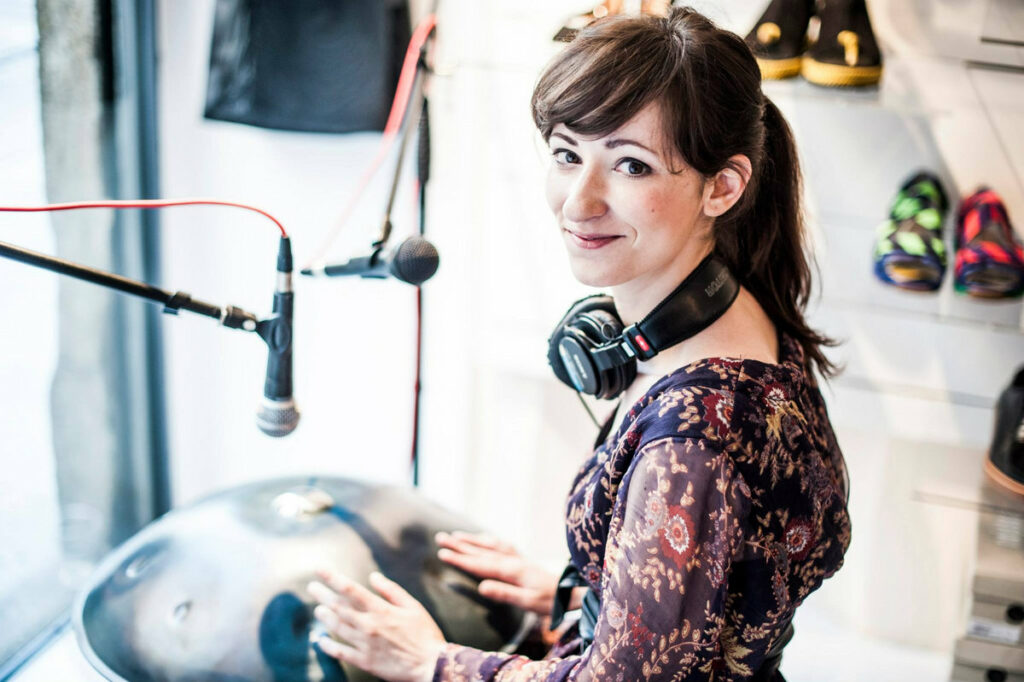 Born in 1989, Giacomo Cella is a musician, composer and sound designer based in Milan. As a child he studied guitar, piano, electric bass, drums and singing; in 2011, he qualified with top marks as a Sound Designer at the IED in Milan. Over the last six years he has composed music for fashion films (Armani, Valentino, Hugo Boss and Etro, to name but a few) and commercials, plus soundtracks for films and documentaries, as well as teaching musical technology at 4cmp; in 2013, he began releasing albums of electronic music and performing live as "Jacky 0".
In 2014, his passion for musical instruments and sound led to his discovery of the strange mushroom-shaped instrument known as the handpan. While researching the subject on the web, he came across the contact details of Emma Grassia, who performs under her stage name Mumi and is one of the most talented handpan players in circulation. Their work together has resulted both in an album that mixes electronic music (made using synthesisers, electronic drum kits and ambient sounds) with handpan music and live performances at events all over Italy.
Emma, who is also from Milan and has studied piano and choral singing her whole life, discovered the handpan in 2011 and fell in love with it. For about a year now, Emma has been busy not only performing with Giacomo at various events and concerts, but also making her own handpans.
---
IRMAOS LORA – Alexandre & Douglas Lora (BRA) [2023]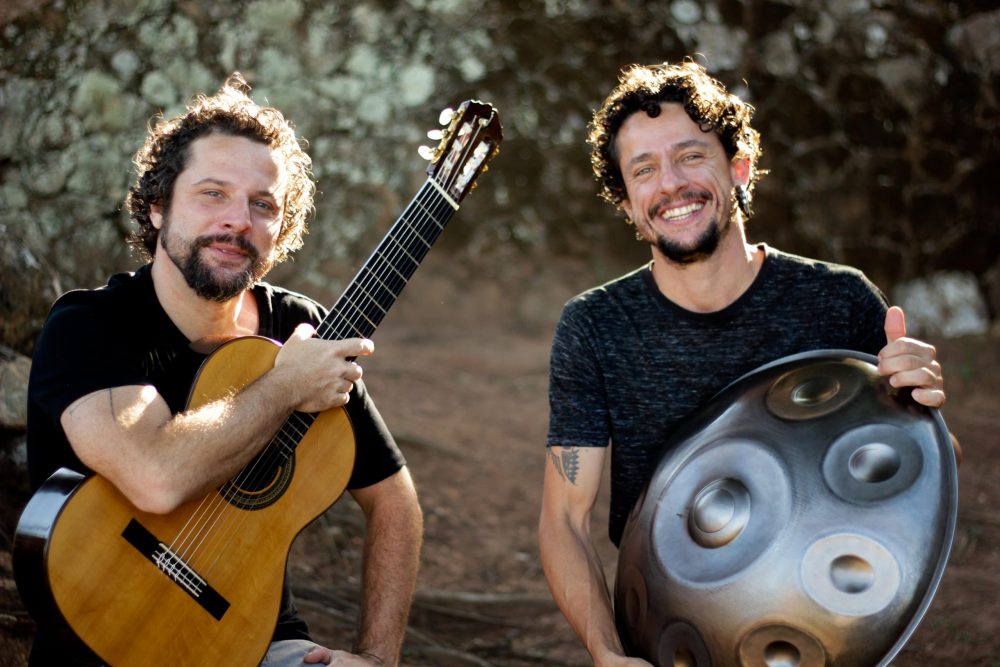 The Irmãos Lora duo is formed by percussionist Alexandre Lora and guitarist Douglas Lora.
The Lora Brothers: A Tale of Musical Excellence and Collaboration
The musical world is often blessed with exceptional talent, and the Lora brothers stand as a testament to the power of family and their dedication to their craft. Douglas Lora and Alexandre Lora, two brothers coming from Brazil, have made significant contributions to instrumental music innovations, captivating audiences with their remarkable skills and heartfelt performances.
Douglas Lora, a virtuoso guitarist and composer, has carved a name for himself through his impeccable technique and unique musicality. His ability to blend traditional Brazilian styles with classical music has earned him widespread acclaim. With each stroke of the strings, Lora weaves intricate melodies that transport listeners on a musical journey, leaving an indelible mark on their hearts and minds.
On the other hand, Alexandre Lora, a master percussionist, adds a rhythmic heartbeat to the Lora brothers' musical endeavors. His deep understanding of Brazilian rhythms and his extraordinary talent for playing a wide array of percussion instruments have made him a sought-after collaborator among musicians worldwide. Alexandre's percussive prowess injects energy and dynamism into their performances, creating an irresistible groove that resonates with audiences.
Together, the Lora brothers have embarked on numerous musical ventures, forming an unbreakable bond through their shared passion for music. Whether performing together as a duo or collaborating with other talented artists, their synergy and mutual understanding shine through in every note they play. Their ability to complement each other's talents and communicate effortlessly through music is a testament to their deep connection as brothers and musicians.
Beyond their individual achievements, the Lora brothers have also nurtured a collaborative spirit that extends beyond their family ties. Their willingness to embrace musical diversity has led them to explore various genres and collaborate with artists from different backgrounds, enriching their musical palette and creating groundbreaking works of art. Through their collaborations, they have bridged cultures and forged connections, demonstrating the universal language of music.
Whether they are enchanting listeners with their heartfelt melodies, igniting a rhythmic fire with their percussive drive, or collaborating with fellow musicians, the Lora brothers exemplify the power of music to transcend boundaries and touch the souls of people from all musical backgrounds. Their journey is an inspiring testament to the transformative and unifying power of music, reminding us of the eternal bond shared by brothers united through their shared love for the art form.
The Lora brothers' musical odyssey continues to unfold, leaving an indelible mark on the hearts and ears of those fortunate enough to experience their extraordinary talents. As their melodies echo through the air, their legacy as gifted musicians and brothers will undoubtedly endure, inspiring generations to come.
---
---
---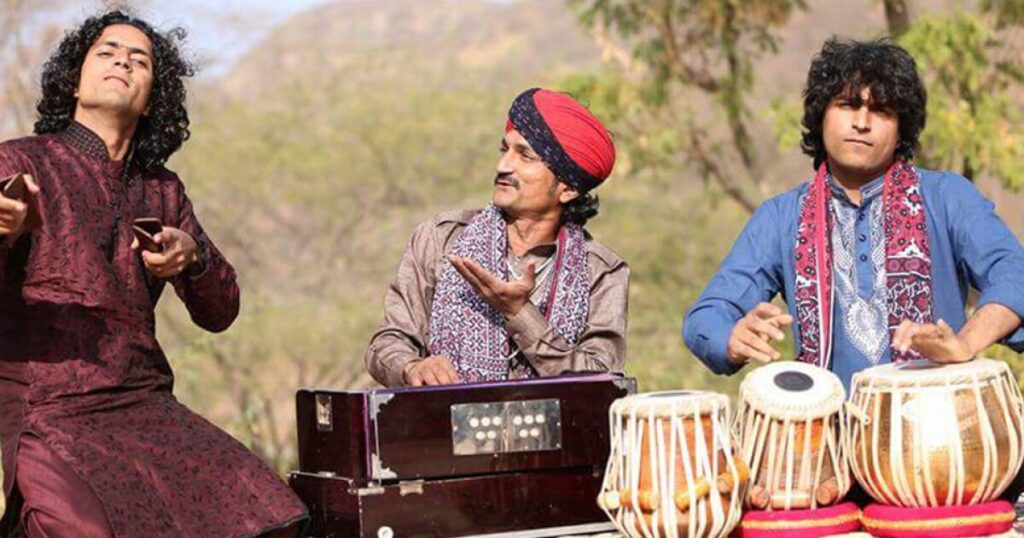 Iqbal Khan & Pintoo Khan:

They come from Rajasthan on the western edge of India from the Thar Desert and belong to a musician dynasty that has passed down their knowledge of generations from childhood on. They convince with their outstanding ability and richness of facets in the field of Indian classical music and rajasthani folk.
Rina Chandra's flute – journey started on one of her first trips to
India .In 2001 she studied under Shri Harsh Wardhan in Delhi and a
year later she began studying under Maestro Pandit Hariprasad
Chaurasia in the Gurukul Vrindavan in Mumbai. Rina returned to
India every year for the training with her Guru.
Cince 2011 Rina has been performing as a Solist and has been
working with different musicians, dancers, as an accompanist of
storytellers and guided meditations. She also composed music for
a lyric project. She is founder and CEO of the association "Raga –
Verein zur Förderung der indischen Musik" (an association who is
promoting Indian music) in Vienna.
---
---
João M Nunes (POR) [ 2016, 2017 , 2022 ]
João M Nunes is a musician, composer and street artist, whose main instrument is the classical guitar, is also multi-intrumentist (flute, alto saxophone, didge, etc.) determined to explore the musical culture all over the world.
Being self taught determined to wonder more and more, also spent a semester by the hot club school to learn some musical theory and recently has sought to deepen their knowledge and technique mainly in flamenco and another styles (Samba, African, World).
He alredy stepped several national and international stages, having already made some several participations and joined projects as Katharsis. Currently beyond solo project, have Gapura, They Must be Crazy, L'Manu'L, project with Kabeção and Agora.
---
---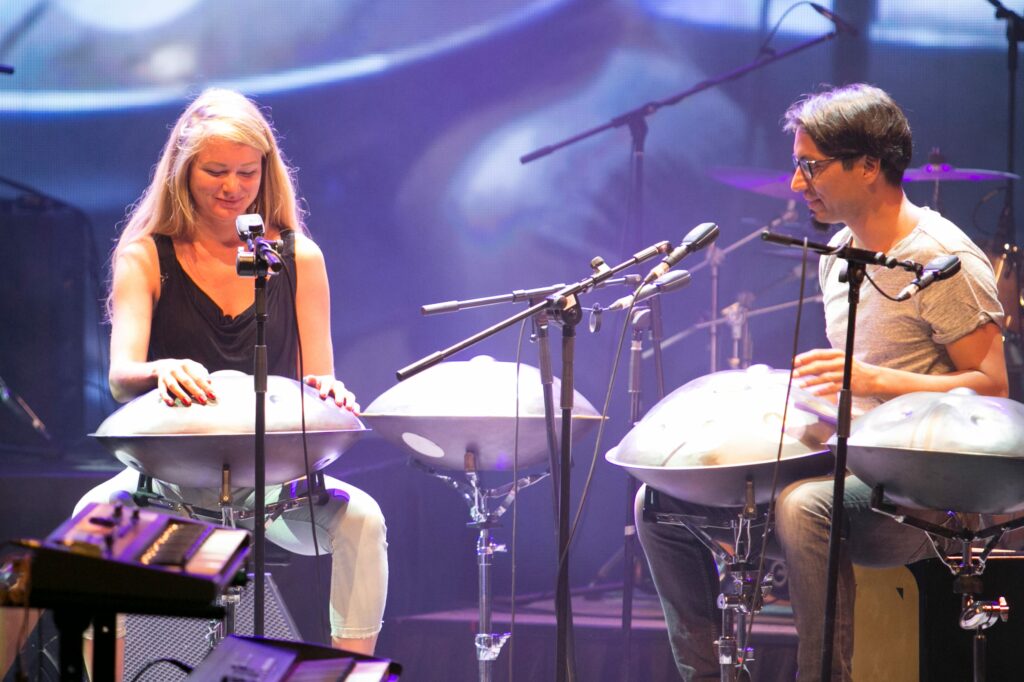 ---
---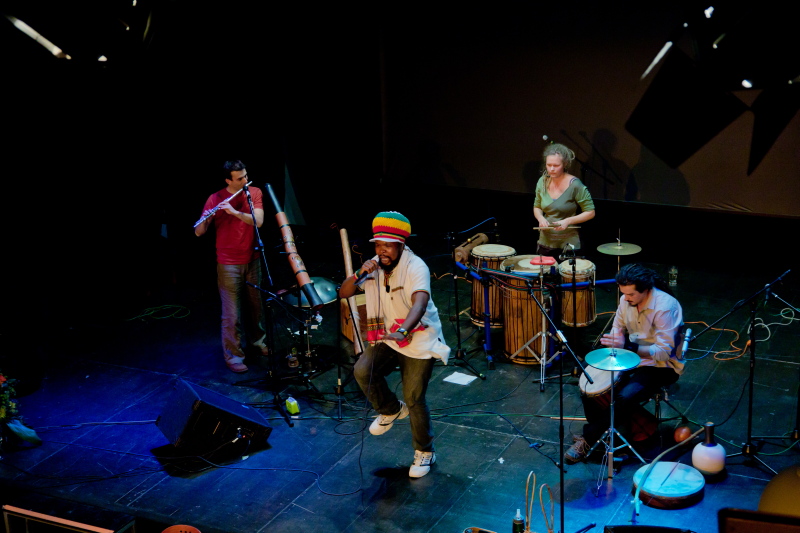 The duo Kenebonda takes the audience on a journey into the world of rhythm. The created soundscapes range from soft and gentle sounds of hand puppets and frame drums to groovy, crisp compositions with cajons and African slit drums to ecstatic, fiery West African DJ rhythms. Add to that the spherical voice of Yela Brodesser.
The change between the rich instrumentation and the diverse music cultures is flowing and the virtuoso play with the rhythmic forms of expression takes the audience from the beginning, goes deep into the body and invites you to dance and dream.
Many different percussion instruments from all over the world are used: Djembe, Dundun, Handpan, Cajon, Framedrum, Tabla, Ngoni, Kalimba, Krin, Kanjira, Udu, Talking Drum
---
---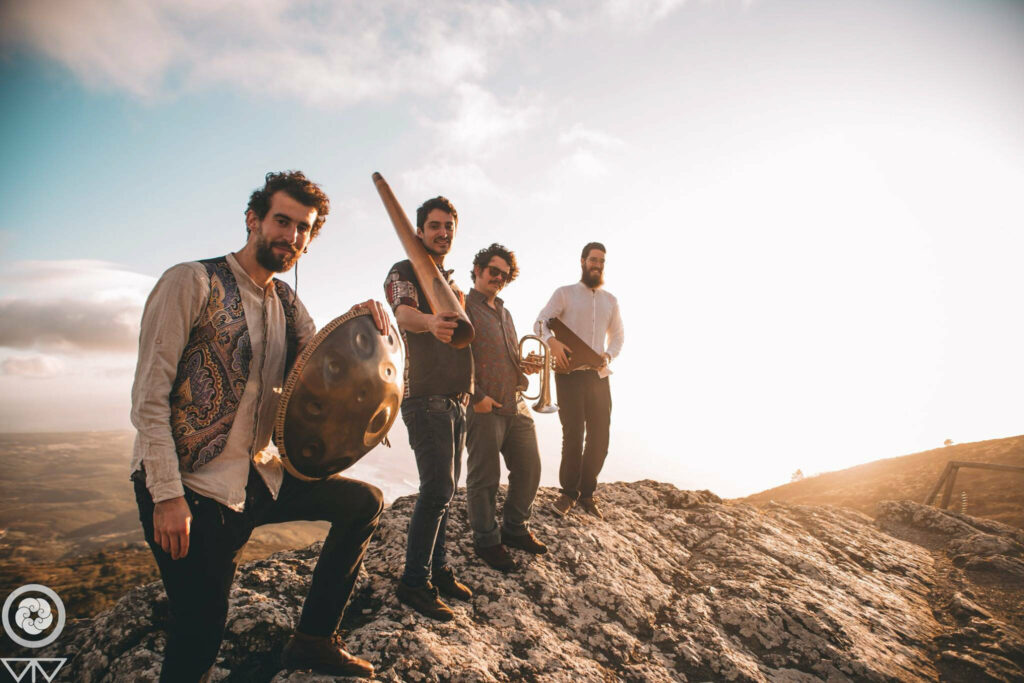 (Kabeção , Ze Cruz, Sebastiao Bergmann, Joao Jardim)
Khayalan is an Ethnic-Contemporary and World music project based and born in Lisbon, Portugal.
The name comes from Indonesian culture and means Notion & Imagination at the same time. A word that is very related to the music created by this musical project. It's a gathering of different beings that explored through their life journeys the sound of ethnic and fusion instruments, that musically affect the senses and conscienceness of either those who play or hear them. Their message combined, takes the audience through a journey of sounds, sensations and feelings, feelings that take us back to the various cultures that created and defined our modern culture.
Members:
Kabeção – Handpan / Pantam
Zé Cruz – Trumpet / Hulusi / Kalimba
João Jardim – Didgeridoo
Sebastião Bergman – Percussion
Links
Facebook – https://www.facebook.com/khayalanmusic/
YouTube – https://www.youtube.com/c/Khayalan
Instagram – https://www.instagram.com/khayalanmusic/
Bandcamp – https://khayalan.bandcamp.com/
Soundcloud – https://soundcloud.com/khayalanmusic
~~~~~~~
Kabeção (PRT) [ 2016, 2017, 2018 , 2022 ]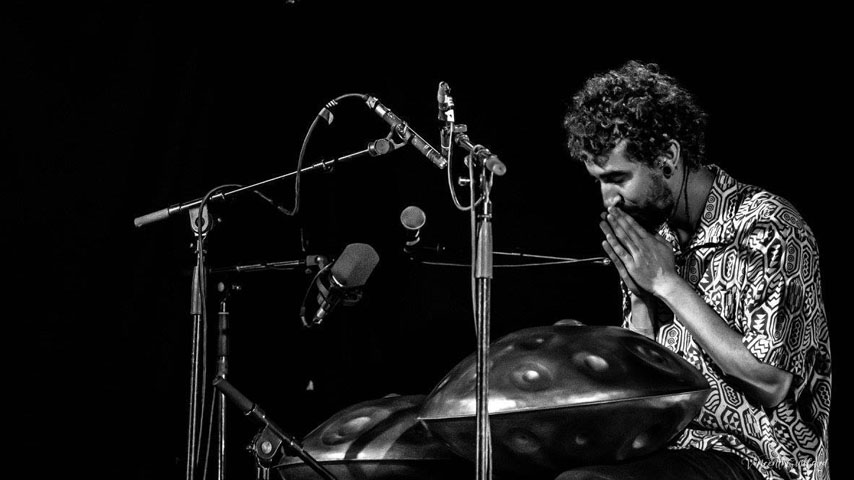 Kabeção is a widely sought after multi-instrumentalist, master handpan player (and teacher), who plays all around the world, creates inspiring music, and performs in various settings with talented musicians from all walks of life. Kabeção's road to stardom has been painted with memorable milestones. He was a finalist on Portugal's "Got Talent" and his highly anticipated album, "Touching Souls" (released in September 2017), was long awaited and completely crowd-funded by music lovers and players from all around the world. "Touching Souls" exceeded expectations and goals during its conception and the album holds true to its name. It is like nothing you have experienced before. With his gentle spirit, playful nature, and emotive playing, Kabeção's music seems to transcend time and space. He is a standalone player in terms of combining the skills of a percussionist with the great essence of a melodic storyteller, encapsulating experiences through the channels of singing steel.
---
---
---
MAHAAN – Marcel Hutter [ 2016, 2017, 2018 , 2022 ]& Andy Huber Band Project (AUT) [2018]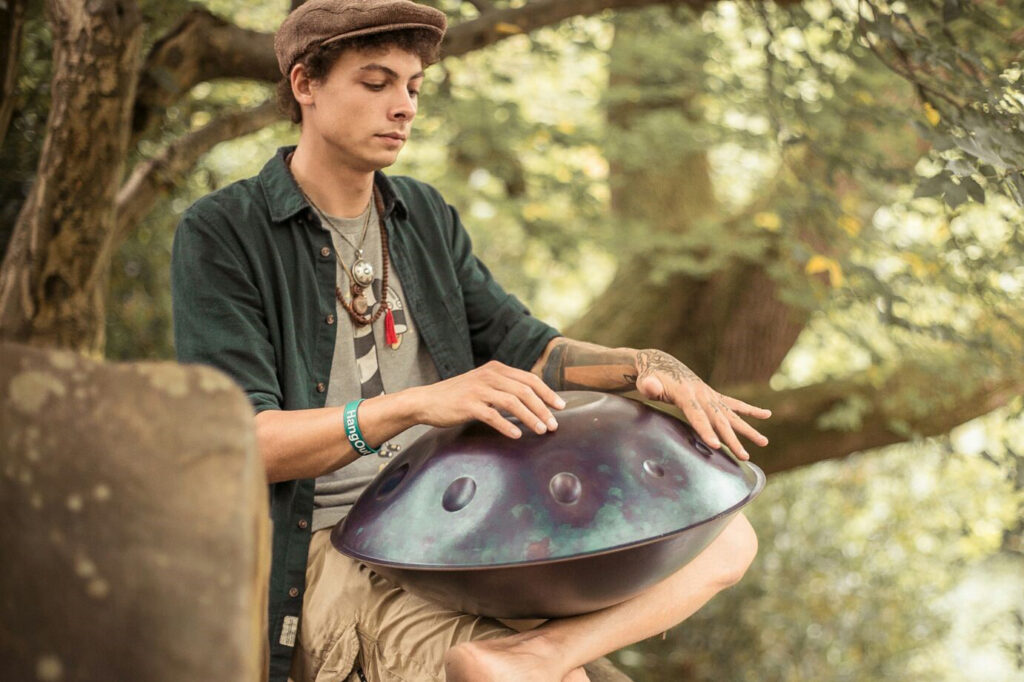 In the center of MAHAAN stands a new, modern instrument – the Handpan / Pantam.
The use of this wonderful instrument was up to now primarily a solo instrument!
The project MAHAAN, which was initiated by Andreas Huber and tries to change this, tries to change this. Marcel Hutter has found a congenial partner.
The handpans are said to be part of a wonderful band with many nuances of sound, with influences be different styles – part of a whole – new is to emerge!
On equal footing, an overall sound evolves that turns the various instruments into a whole merge!
Due to the diverse background of the musicians (jazz, world, classical, reggae, meditation …) was born a varied, colorful repertoire that stimulates dance as well as meditation.
MARCEL HUTTER – Handpan
Handpan player since 2012! Self-taught. For a long time he was primarily street musician!
A welcome guest at many Handpan Festivals (France, Greece, England, Germany, Portugal, Austria ……)
Highlights were performances at the court of the Prince of Montenegro and with former Austrian Federal President Dr. Heinz Fischer.

ANDY HUBER – Percussions
Studied classical percussion at the Anton Bruckner University Linz, Austria
Music school teacher and Adult education,, teacher training, kindergarten teachers,Afternoon supervisor, music school teacher, ……
Ensemble member and others: "Hallucination Company", "Chameleon
Orchestra "; "Manuel Ortega Band", "10 strings 1 sheet", … ..
Played u.a. with: Marianne Mendt, Napoleon Murphy Brock, Andy
Baum, Folke Tegethoff, Hansi Lang, Vienna Boys' Choir, ….
HANS FALTER – Flutes
Learned the most different flutes autodidact
He also plays alongside the "conventional" C, alto and bass flutes
exotic like Bansuri (India), Shakuhachi (Japan), Tin Whistle
(Ireland),…
Plays mainly solo projects and in experimental formations like "art of experiance", "voiceXperiance", …
STEPHAN MASTNAK – Base, Gambe
Studied at the Bruckner University (Linz, Austria) and College of Music Los Angeles (USA)
One of the most sought after and most accomplished bassists in Austria!
Double Bass, Fretless, E-Bass, Gamba and much more
masters and teaches the multi-instrumentalist!
He plays u.a. with: Anna Laszlo, Alegre Correa, Jackson Allen, Sabine
Stieger, Dawn Bishop, The Pilots, Ms Grace, Chaun Horton, Patricia
Breiteck, Linda Frey, Goethe – grooving…..
MAHAAN Videos (Youtube):
https://youtu.be/gdjRxuFIbn0https://youtu.be/BD-R7MRw9rk
---
---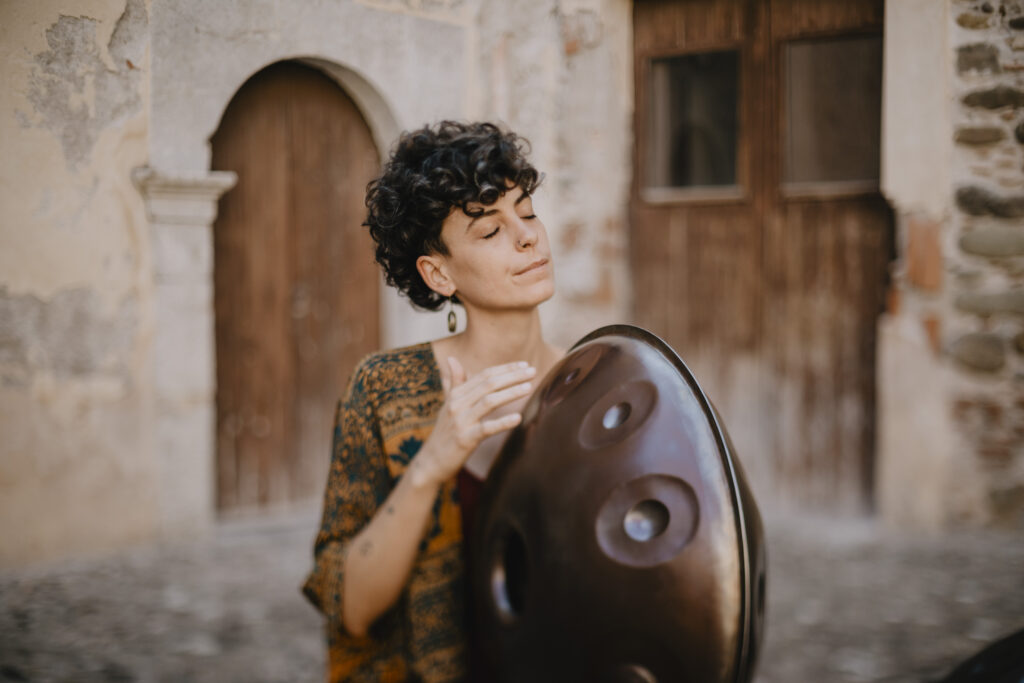 Mar Loi is an intuitive and expressive musician, composer & handpan player born in Tenerife, Spain.
Based in Barcelona, she explores sound & different music styles since 2017 when she decided to change her old profession as childhood facilitator. Mar started as a Busker and released a first Album in 2020: "Mercury found Mars" with which she started touring around Europe. She is into the Barcelona Handpan Community, being part of Singading Gathering organization and Kurdeolian School as Handpan Facilitator.
Cocreating duos as KORAMA & JOI, she tries to explore the infinite possibilities of creation with Handpans based on the magic of the music: an open door to feel and express.
She released a second album with Jozz Sajim in 2022: "Género Desconocido – JOI". This Album is a conversation between Handpans, didgeridoo, traverse flute & electronics.
Mar is actually working on the release of her second solo album: "Grises", which will invite us to navigate through some stories from her vision started on the pandemic year. This album talks through Handpan compositions, percussions, electronics, bass and also incorporating voice recordings and soundscapes that involved the creation process.
---
Marcel Hutter with:
David Eibl is an Austrian drummer. After studying jazz in Linz, he lived in Berlin as a freelance drummer from 2011 to 2017. Since 2018 he lives in Vienna and is intensively involved with drum sound and recording. In his own studio he records drum tracks for national and international art
Maria Dörfler studied jazz violin in Vienna and Linz from 2017 – 2023 with Paul Dangl, Andreas Schreiber and Johannes Dickbauer. Formations in which the violinist plays are a medieval band from Vienna (Amarok Avari), World Music with Graflmayr Ofn (Linz), Jazz original compositions with Pillow Talk (Linz) and Jazz Manouche with Rukeli (D – Kiel). She has just joined the Marcel Hutter Project.
She is also a composer and writes pieces for the Janus Ensemble under the direction of Christoph Cech.
Stephan Mastnak, musician, composer/arranger and as an educator in numerous fields from Garsten, Austria. As a bass player at home in many genres and can be heard in numerous formations. (Sabine Stieger, Goethe Groovt, Anna László Quintett, Modern Music Tanz Orchester, Severin Trogbacher Projekt, Lena Magdalena- Musik-Theater für Kinder, uva…) Studied in Linz, Vienna and Los Angeles.
Lives and works in and around Austria.
In creative musical exchange with Marcel Hutter since 2018.
---
---
---
Mark Lupescu & Leonardo Trincabelli (DEU/ITA) [ 2018 ]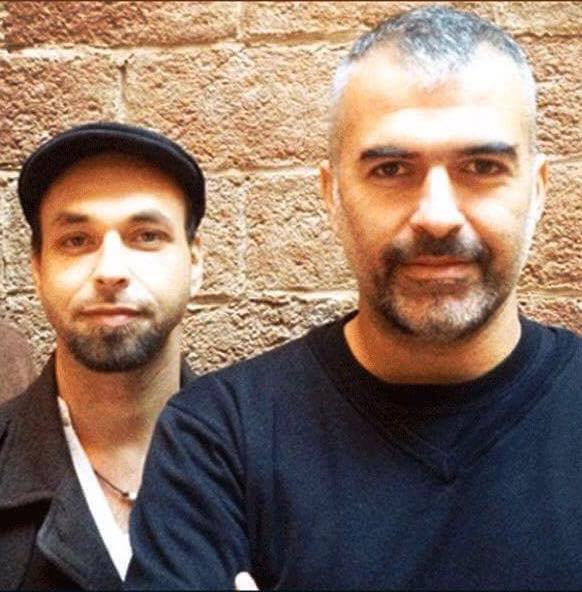 & Special Guest Binod Katuwal (NEPAL)
Leonardo Trincabelli absorbed the african cultural heritage in the tradition of his native Uruguay. He started his involvement in music in Montevideo as a percussionist, singer and stage producer, while dabbling in folklore and afro-latin rhythms. Later, he moved to Barcelona and developed a passion and the technique for playing the Hang. Along side this new instrument, he also developed into Flamenco, Brazilian and Indian cultures. The highlights of his creations are summarized in 5 albums: Nara Trio 2009, Release (solo) 2010, Xalat Bu Rafet 2011, Lhas (solo) 2012, Vol.A.R. (solo) 2013 and 3 collaborations in documentaries. Currently defined as a multi-instrumentalist and composer, he is on a never-ending search of new sounds and music.
http://leobelli.wix.com/leoproy
Mark Lupescu was born in Romania and emigrated at the age of 14 to Germany. He graduated from the conservatory in Leipzig as a percussionist. The music took him to many countries and the influence of different cultures is reflected in his music. In his travels in Gambia and Mali discovered the Kora, a Harp of 21 strings, which is his main instrument now. Currently he lives in Barcelona where he plays in different projects like Nara Trio, Rasakan, Nais, Nakany Kante and others. Apart from his activity as musician, he is also building handpans.
www.facebook.com/lupanhandpans
Binod Katuwal is a Bansuri flute player from Nepal, Kathmandu. Now living in Barcelona. He plays Bansuri(indian bamboo flute), djembe and didgeridoo.
He has been working as a fusion Bansuri flute player for more than 18 years, playing with different bands and musicians from around the world.
www.facebook.com/binod.katuwal
---
---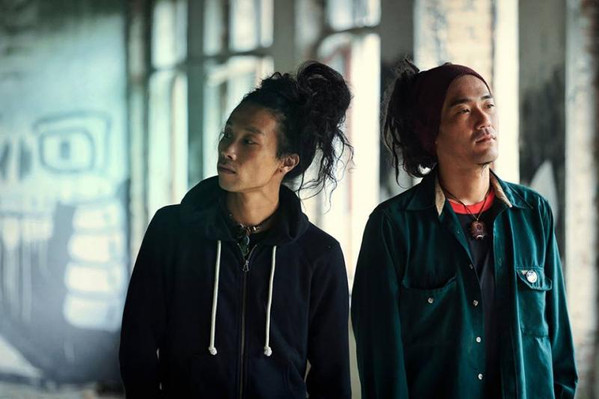 Originally from Japan, Matsumoto Zoku are based in Melbourne and Vienna.
Koji Matsumoto plays Hand Pan and Didgeridoo.
Reo Matsumoto is a Human Beat Maker, Hand Pan Player, Percussionist and Electronic musician.
Matsumoto Zoku's career started on the streets of Melbourne. They are currently recording their Fifth album.
Their debut album MATSUMOTO ZOKU was released in 2014 after their demo TRIBARHYTHM DEMO, released in 2013 sold more than 8000 copies on the street.In 2015 they released their Ho-High EP. Their follow up ZOKU CAMP DEMO EP was released in 2016 and their new album MATSUMOTO ZOKU 2 will be released soon.
Since forming Matsumoto Zoku have performed in 14 different countries, covering 41 cities.
Highlights include playing the OZORA FESTIVAL for the last 3 years, headlining on the Dragon Nest Stage in 2014, touring Europe 3 times, Russia twice and Japan twice. In 2016 they opened the OZORA TOKYO FESTIVAL.
Matsumoto Zoku merge urban vocal beats with the soft sounds of the Hand Pan and Didgeridoo creating a playful, serene yet vibrant sound. Their intuitive and unique music is inspired by their extensive travels busking internationally, resulting in an original and emotive style and groove. Their music crosses over many genres including HipHop, Rock, TripHop, Dance, Psy, Dn'B, Chill Out and Meditative. Their music finds harmony where the urban and the natural meet.
HISTORY
2009 April
On a hot day on a rooftop in Varanasi India, Koji and Reo met for the first time.
Then they began jamming together. After, they realized they wanted to make music together in the near future. At the moment they continue to tavel to refine their personal skills. Koji went to Australia and Europe and Reo went to Japan and NewYork.
2012 June
Then came the crisis in Amsterdam, Holland 2012. Koji and Reo met again after waiting since 2009 to make music together‐3years later!
They started busking on the streets of Amsterdam, but only earned 3 euro because of the speaker Reo bought in Thailand. Thai brand doesn't work well. It seems funny now. The Matsumoto Zoku story continues…
---
---
MAYIIA (DEU) [ 2018 ]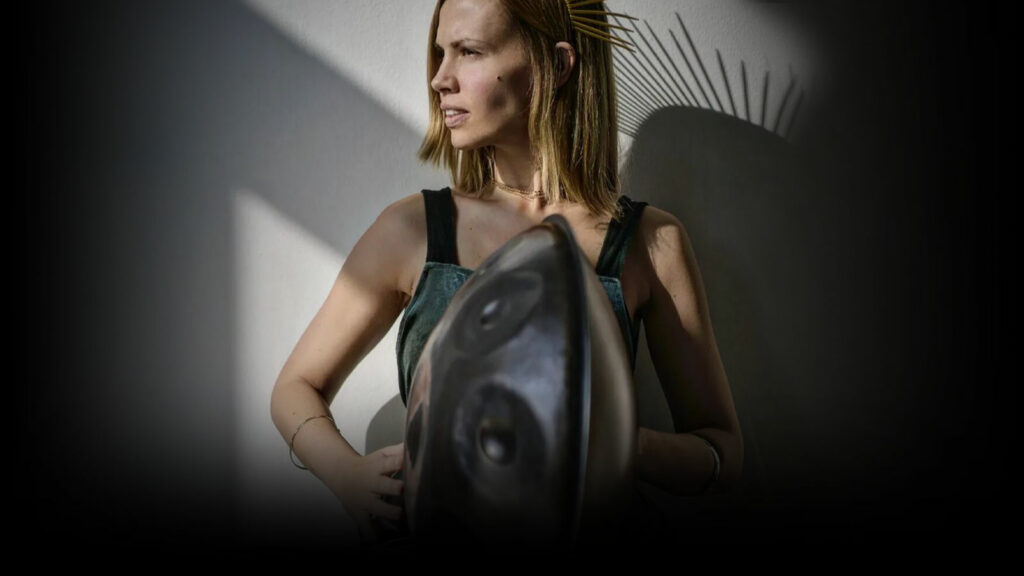 Mayiia – Following Neptun.
Last year she released her EP "S I V E L A D O". A response to having spent some time touring and traveling abroad.Currently Mayiia is touring with her solo program "Following Neptun". She sings and plays her own music by playing Handpan and Ravdrum and using her natural voice, experimenting with different noises and musical elements. Her EP features danceable songs with ripples of melancholy, spiced up with some electronics. Wide nordic spaces and poetic lyrics create a new space for the gentleness of open heartedness and the connection of the inner sound.
As Mayiia says, "All music comes from silence and end in silence".
---
---
MEA (GER/CZE) [ 2022 ]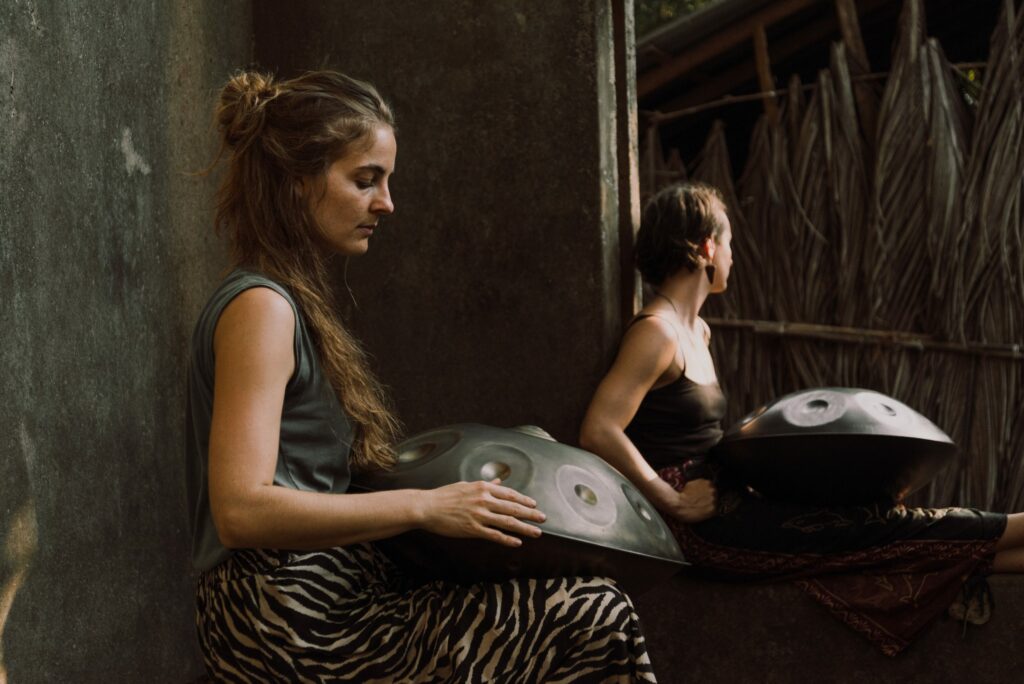 MEA is the handpan- and world music project by Marketa (Czech Republic) and Lea Valentina (Germany). Combining the sounds of handpans with voice, flute, guitar, mouth harp and percussion, we love to create a space where we can truly meet each other. Being silent and wild, soft and strong and raising our voices together in celebration of life….
---
---
---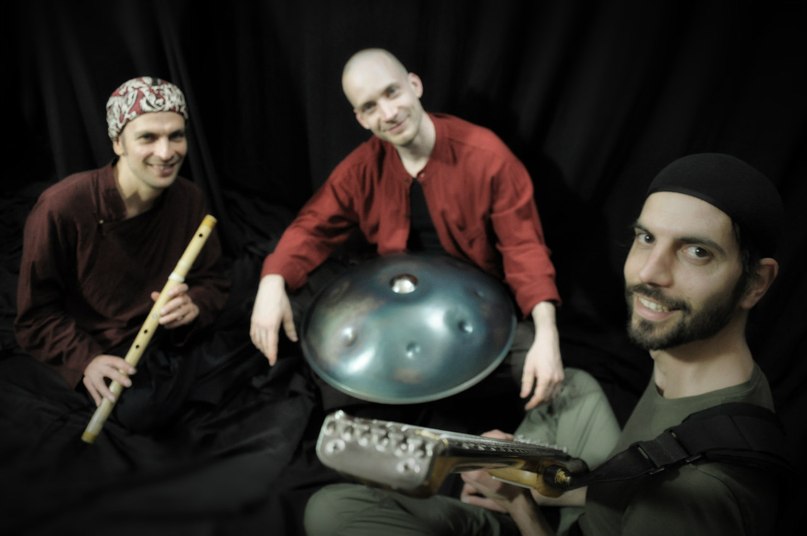 This trio is exploring the possibilities of the Hang drum and other handpans in the context of ethnic woodwinds, worldpercussion and electric bass.Each member of the trio is well known in the world
music community as a virtuoso performer and composer.
Combining their skills, Nadishana, David and Armin are bringing fresh vibe to the world-fusion scene.
David Kuckhermann: After studying with teachers such as GlenVelez, Behnam Samani, Ramesh Shotham and Ustad Fayaz Khan David created his personal style, incorporating techniques and rhythms from the hand drumming traditions of Iran, India, Egypt, Europe, Turkey and Africa.In 2011 David discovered the Hang and the instrument family of handpans. They broaden his instrument range and add melodic and harmonic options to his repertoire. In
2012 he released his first Solo CD "The Path of the Metal Turtle"with music for Hang and Handpans.
Vladiswar Nadishana: Nadishana is a multi-instrumentalist, composer and sound designer from Siberia, who creates his own unique and innovative approach to world fusion music – the creative synthesis of different musical traditions of the world on the basis of contemporary technologies. He plays on more than 200 instruments of the world, including self-created ones. During his living in small village in South of Siberia Nadishana established "Sound Microsurgery Department" (SMD). SMD is a creative research laboratory handling a wide variety of projects: from mastering unknown ancient musical instruments to elaborating new creative methods of work with digital audio.
Armin Metz: German producer and multi-instrumentalist, mainly bass. "When I started to play bass, I had the feeling that this is an instrument with lots of possibilities that are not yet explored.
Besides the beautiful job of playing the powerful, basic notes of a song, there are many ways to make a bass sound in different colors.I played piano a lot before, so tapping was quite [familiar] on the bass. The song "Aerial Boundaries" by guitarist Michael
Hedges inspired me a lot… I saw the video on TV and later only had the record, so I tried to find out how he played it and figured out a certain tapping technique. In the end I realized he did it in another way."
---
---

Peter Gabis (AUT)
Is a Jazz drummer, percussionist, teacher, Peter_Logosound massage practitioner, dialogue facilitator, etc… He was always interested in exploring the creative process, mostly in music, rhythm, sound and communication and he like the variety of the different fields, that are not so different as they look at the first sight.
The single domains of his work affect and interact with each other, they influence each other. That creates a very exciting creative field, that I use for my movement, going here going there… to learn out of a inner need to learn.
Haider Khan (IND)
Haider Khan hails from Rajasthan on the western edge of India from the Thar desert and belongs to a musician dynasty that has passed down its knowledge of generations from childhood on. He convinces with his outstanding ability and richness of facets in the field of Indian classical music and rajasthani folk.
He was also able to prove his talent as semifinalist of the Indian supertalentshow – season 3.
In addition, his enrich numerous current fusion and jazz projects such as [dunkelbunt], the lila – the indian jazz project, kaveri kathak dance & philip sageder (bauchklang). appearances and guest appearences with well-known musicians from the "wiener scene" has already brought her to great stages in vienna, such as gasomether, concert house, porgy & bess. they effortlessly move through various genres, the world music, jazz, the balkan groove supported by musicians of the "wiener tschuschenkapelle", electro swing, with dj's and producers, like donjohnston and scheibosan or also on the popfest vienna with skero.
harri stojka was allowed to stand by her during his india express tour 2015 in india.
AZEEM Ahmed Alvi (IND)
Born into the sixth generation of a family of classical Indian music, at the age of 6, Azeem Ahmed Alvi studied traditional Indian music exclusively under his father Ustad Sayyed Ahmed Alvi and Ustad Mohsin Ali Khan. Under his esteemed guidance, he owned his sitar playing skills and went on to master the art of Sitar playing well-known genius – Padmashree Ustad Shahid Parvez Khan.
Azeem Ahmed Alvi gave his first live performance at a tender age of 12. After having been awarded a National Scholarship by the Government of India, he went on to perform at various prestigious music festivals in India and across the world to represent Indian Culture including Japan, Singapore, Germany, Vietnam, China, Austria, UK and many more.
Azeem Ahmed Alvi has travelled the world and has ensured that the sound of traditional Indian music be heard live and loud in a variety of diverse interpretations. This led him to become a prominent music figure in the realm of Indian classical music. Only in his twenties, Azeem Ahmed Alvi has established a strong foothold in the contemporary music scene both, in India andabroad. Already known to be one of the foremost sitar players of the world, he aspires to bridge the gap between Indian classical and western contemporary music. Through his musical expertise, he has dabbled in diverse genres like Sufi, Flamenco, Jazz, and Electronica & Western Classical music.
---
---
A traveler at heart and a multi-instrumentalist musician, Quentin Kayser developed his passion for music at an early age. Self-taught, he began to compose instinctively by exploring the sounds and different harmonies offered by the instruments that passed through his hands. After 25 years of extensive explorations on piano, guitar, percussion, bansuri flute and vocals, Quentin played the handpan for the first time in 2011.
By chance of travel, he met a talented percussionist, Steve Shehan, who allowed him to try his own handpans.
---
---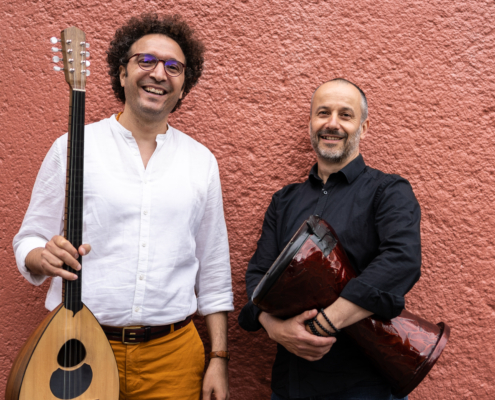 Salah Ammo is a Syrian-Kurdish musician, composer and singer. Since 2013 he lives and works in Vienna. Since then he has founded various musical-cultural projects, including the duo project with Austrian percussionist Peter Gabis, the Salah Ammo Quartets and the Dabka Dilan Band. According to the Austrian Music Export 2016 Salah Ammo is "one of the most acclaimed musicians in the world music scene in Austria". Together with Peter Gabis in the duo project they have 2013 their album "Assi – A Story of a Syrian River" edited, which was nominated for the best list of the "Prize of German Record Critics". In 2014, the duo was in the final of the Austrian World Music Award.
His compositions are influenced by the cultural and musical traditions of his native region in northeastern Syria, where multicultural Kurds, Arabs, Armenians and Assyrians have lived together for thousands of years and give his music a special identity, as described in his first album "morning breeze "(2010) can be heard. Joussour Group, one of his first projects, became one of the most important groups in Syria. The 2011 album "places and directions" by Joussour Group contains Salah Ammo's own compositions as well as the musical heritage of his home region.
---
---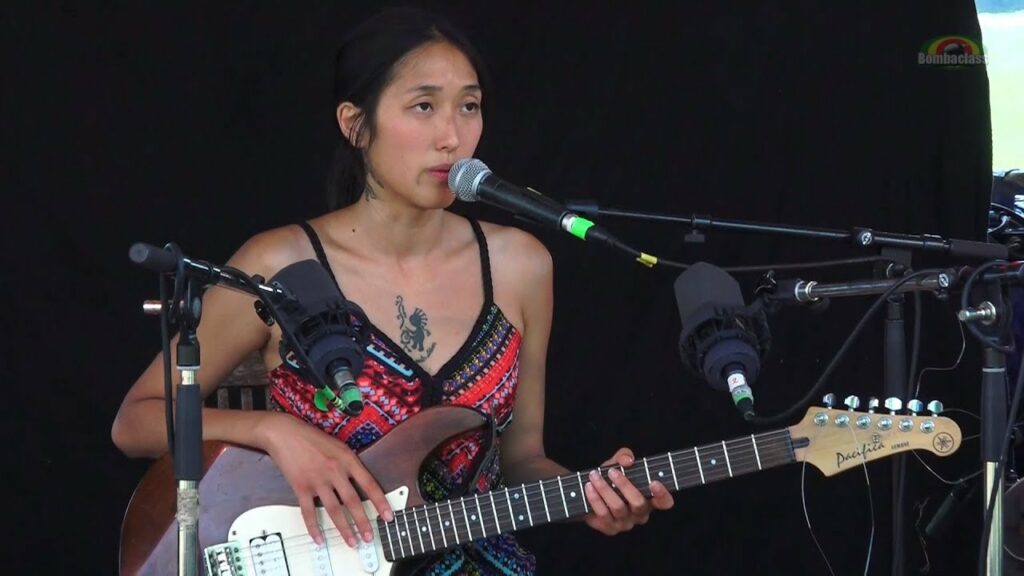 Sandy Mango & The Cosmic Boat is a project created by Sandy Hui Bon Hoa.
She grew up in the suburbs of Paris, and started to play music around 17years old, after founding her first guitar in the bin. Since 2012, she travels around the world, and had the opportunity to accompany many homeless people and to participate in various humanitarian projects. When she came back in France, she decides to make a crowdfunding project to develop her first collaborative album. With the intention of sharing messages of peace and love.
Her music is a tribute to the nature and the various influences and encounters made during her travels. She invites many friends to collaborate. From March to September 2017, it is a crew of 22 pirates in total, coming from various horizons, who will contribute piece by piece to the development of this project. Through Poems, instruments and illustrations…
And with the help of his friend Little Pablo, producer and instrumentalist, they translate the richness of the poetic universe of the Cosmic Boat. A spatial trip-hop with captivating melodies, tinged with influence from all over the world. Mauricio Rodriguez from Italia, is one of the guitarist who record in the album, they met each other while living and playing on the beach together in « La Caleta » Canary Island.
---
---
THAALAVATTAM (Montry Manuel) (IND) [ 2016, 2017]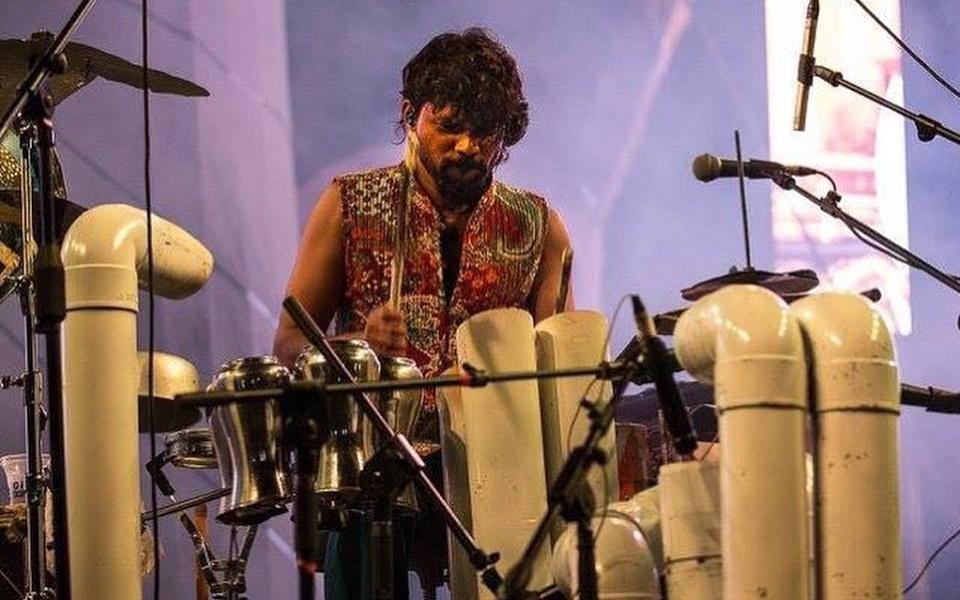 Percussionist, graphic designer and artist, Montry Manuel, founded Thaalavattam in 2011. Growing up in the Southern Indian port city of Cochin, he was inuenced by his father, who instilled in him a deep love for music and the Planet. He owes his musical foundation to his guru, the loving and inspirational Jerry Peter. Montry played in the popular Indian Indie band Swarathma for 7 years, before breaking away to pursue his dream of making a difference for the environment, through music.
Thaalavattam, which means 'A Circle of Rhythm,' is a unique percussion-project from India that harnesses the universal power of music to inspire people to REDUCE, REUSE AND RETUNE. We fashion all our musical instruments from FOUND OBJECTS creating cutting-edge sounds and inspiring creative action for the Planet.
Our 'organic grooves' emerge from discarded tubes, industrial waste materials, paint cans, plastic bottles, bicycle parts, etc. These are reborn as hybrid percussion kits, oating jugs, tubes, didgeridoos and more, and then electronically sampled to offer a musical experience that is earthy and organic, yet ethereal and otherwordly.
---
---
TWINPAN (FRA) [ 2017, 2018 ]
Laurent Sureau & Jeremy Nattagh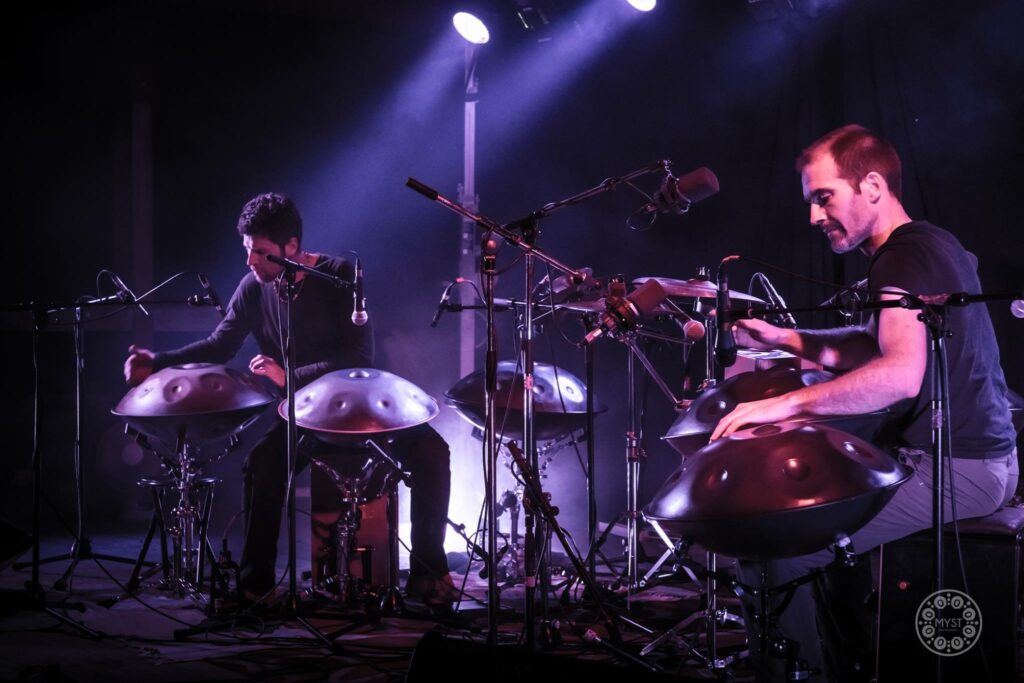 Twinpan is a duet that was born directly on stage in 2015 during an impromptu jam.
Two multi instrumentists, Laurent Sureau and Jeremy Nattagh, that studied classical,
african, jazz and modern music, now offer a 4 feet and 4 hands crazy show that
pushes the Hang/Handpans boundaries, whether in precisely arranged lyrical
compositions or in fierce grooves.
Every piece is a new offering to the audience's senses.
Dive in for an unforgettable experience with two dedicated musicians, always
searching for new soundscapes.
---